The 20th Technical Report Session
Gifu University technical staff members are taking part in the university's technological development efforts, engage in technology-related assignments, and are also providing technical instructions for the students in order to promote university's education and research activities.
The 20th Technical Report Session was held on campus on March 5, 2019 whose major objectives are to accelerate technological innovations and their wider use in society in the near future. People from Nagoya University, Nagoya Institute of Technology and Shizuoka University attended this annual report session. They gave presentations on their day-to-day research activities and the state of ongoing technological advancement. Every time his/her presentation was over, questions were raised from the audience and active, back-and-forth questions and answers continued for some time.
Professor Minoru Yamashita, Director of the Center for Advanced and Smart Die Engineering Technology (G-CADET) gave a special lecture. Later, the participants were given the opportunity to make a tour around the center-affiliated facilities. They observed the cutting-edge die engineering process and operations while listening to the detailed explanations from the staffs there.
Gifu University is currently examining the possibilities of holding a joint report session with Nagoya University in hopes of its further expansion in the future.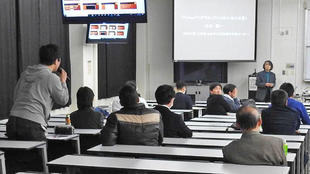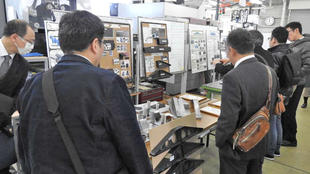 2019.03.15
Internal links
Original sites
External links
File links