Advanced Subject Study Report: Next-Generation Regional Leader Fostering Program
The Center for Collaborative Study with Community is implementing the Next-Generation Regional Leader Fostering Program with the view to developing human resources who can demonstrate strong leadership in the community and are equipped with the following sets of skills: well-versed in Gifu, able to find challenges in Gifu, and take actions for problem-solving. The program also aims to cultivate next-generation regional leaders who will assist people playing extensive leadership roles.
On February 6, 2019, the advanced subject report sessions were held for the following courses in the program: regional leader course, and industrial leader course. In the advanced subject, only the students who have earned more than eight credits in the primary subject are eligible to study, and are engaged in practical studies for the community and industries.
The report session for the regional leader course was held at the General Education building on campus. The following are the names of teams and their study themes (four groups, nineteen students participated in)
1. Nakatugawa Agi Team: Surveys on countermeasures against abandoned houses and workshops
2. Hashima City Ajika Team: Creation of Aji karuta, Japanese cards for local children's better understanding about their home towns, and karuta tournament
3. Toki City Team: Photo rogaining* to convey the charms of Toki City to the youth
4. Gujo City Motai Team: Design competition on regional folklore and signboard installing
The students have learned the importance of information-sharing among team members, schedule management and effective promotional activities through their experiences of planning and operations for problem-solving in the community.
The report session for the industrial leader course was held at the Gifu University Satellite Campus (Gifu City). With the support of the Juroku Bank, Ltd. (program support organization), the students proposed the four shops in the service areas of the Central Nippon Expressway Company (NEXCO) carry honey products of Akitaya Honten Co., Ltd.
The subject for the second half of the course in 2018 is: Promotion of Akitaya honey product, "Hachimitsu Days" at the service areas. Six students made a 50-minute presentation each on people's needs, special features of "Hachimitsu Days," and promotion activities. Through this course, the students have gained insights into the real world of business, and experienced firsthand business negotiations. In addition, they have developed special attachments to their home towns in the process of making business proposals to the companies.
The advanced subject continues to open from the next academic year onward with the cooperation from the community and businesses.
*Rogaining: an orienteering sport of long distance cross-country navigation, involving both route planning and navigation between checkpoints using a variety of map types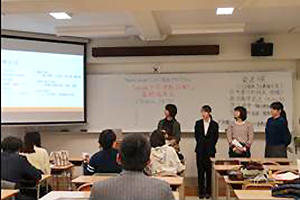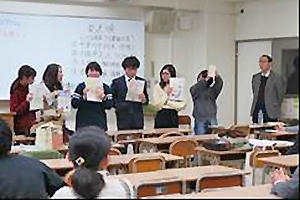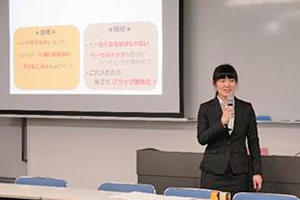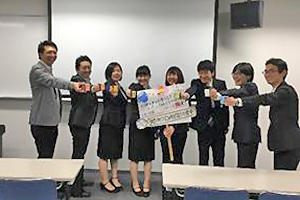 2019.03.15
Internal links
Original sites
External links
File links