United Graduate School of Veterinary Sciences: the 10th Joint Symposium
The 10th Joint Symposium of Veterinary Research among Universities of Veterinary Medicine in East Asia was held on campus from February 18 to 19, 2019. In the keynote lectures (speeches by professors) and student presentations (speeches and poster sessions), both the speakers and the audience willingly engaged in information sharing and opinion exchanges.
Associate Professor Shinya Fukumoto from the United Graduate School of Veterinary Sciences (UGSVS) delivered a keynote speech, which was followed by poster presentations by five UGSVS students and oral presentations by three students. Of them, Ms. Appiah-Kwarteng Cornelia was presented an outstanding performance award for her work.
Ninety people took part in this two-day symposium from seven universities in Asia (Taiwan, South Korea, Hong Kong and Indonesia), UGSVS (consisting of Gifu University, Obihiro University of Agriculture and Veterinary Medicine, Iwate University, Tokyo University of Agriculture and Technology and National Institute of Infectious Diseases), the United Graduate School of Veterinary Science, Yamaguchi University (consisting of Tottori University, Yamaguchi University and Kagoshima University) and the University of Tokyo. Young researchers enjoyed the moment of associating with veterinary researchers and scholars from Asia.
The 10th Joint Symposium marked the end of this kind of international conference, and a new form of academic gathering will start from academic year 2019. It is hoped that friendship formed through ten symposiums is maintained among all participants and is developed into a thriving personnel and academic exchanges in the future.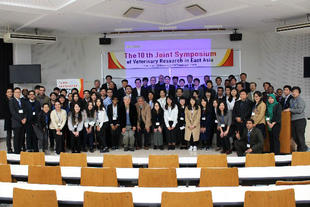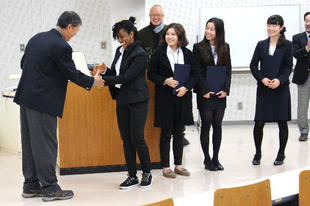 2019.03.12
Internal links
Original sites
External links
File links