The 10th Press Conference by the President in AY 2018
Gifu University held the 10th Press Conference by the President on February 20, 2019.
First, President Hisataka Moriwaki spoke under the theme: Ibigawa Town (Gifu Prefecture) & Gifu University Partnership: revitalization of hilly and mountainous regions with Ozu (Ibigawa Town) as a model, while referring to its future role in Gifu University's Future Vision Toward 2025. His speech was followed by the presentations of two speakers: Vice President Hirokazu Fukui (Executive Director for Planning, Evaluation and Fund) and Dr. Makoto Sugiyama, Dean of the Faculty of Applied Biological Sciences. They introduced the history of friendship between the university and the town, support and educational programs implemented through collaboration of the two.
Gifu University signed a partner agreement with Ibigawa Town in January 2016. The Faculty of Applied Biological Sciences and the town later concluded a memorandum of understanding (MOU) for more specific, concrete projects. Gifu University started to provide support for Ibigawa Town in April 2016 at its request after the town was granted a mountainous region revitalization fund from the Ministry of Agriculture, Forestry and Fisheries.
The university's support projects are already coming to fruition. They are: branding of Hakusan Shrine's* cleyera japonica (sakaki)** cut branches in the market; smooth transplanting sakaki trees and their naturalization; creation of new wild game meat dishes; reviving wasabi horseradish fields and wasabi commercialization; and planned production of edible wild plants.
Gifu University students study the history of Ibigawa Town at Oz Club Seminar House whose building was renovated from an old private house in Ozu. The students are mingling with local residents out in the fields and gaining firsthand experiences there.
The reporting session will be held at Ibigawa-cho area interchange center on February 22, 2019.
Gifu University continues to contribute to the development and well-being of local communities.
* Hakusan Shrine: an ancient shrine in Ibigawa Town
** Sakaki: sakaki is considered sacred to Japanese Shintō faith, and is one of the classical offerings at Shintō shrines.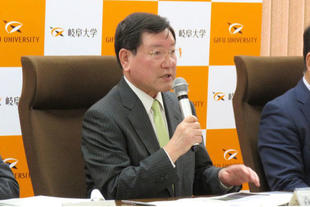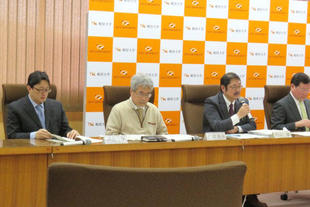 2019.03.12
Internal links
Original sites
External links
File links