United Graduate School of Veterinary Sciences Open Lecture
The United Graduate School of Veterinary Sciences (UGSVS) held the 6th open lecture at Gifu University Satellite Campus (Gifu City) on February 7, 2019. The title of the lecture was: One Health approach to fight the spread of animal infectious diseases: release of pathogens from livestock into the environment. Approximately 50 people from Gifu Prefecture Medical Association, Gifu Veterinary Medical Association, Gifu Prefecture, Gifu City and livestock business attended the lecture.
UGSVS holds an open lecture once a year in order to provide Gifu citizens, medical staff and veterinarians in the region with information about the latest topics in infectious diseases and to exchange opinions among specialists and citizens.
The 6th lecture focused on informing people of animal infectious diseases spreading from domestic animals, and encouraging the participants to come up with effective measures to prevent the spread through "one health" principle. Under this system, collaboration in the communities of medicine, veterinary and public health is expected to be a driving force to control animal infections.
The following are the titles of presentations and speakers:
- Release of pathogens from drug-resistant livestock into the environment: roles of compost and housefly: Professor Yutaka Tamura from Rakuno Gakuen University
- Infection strategy of animal virus: viruses lurking in the environment: Associate Professor Hiroshi Aoki from Nippon Veterinary and Life Science University
- Epidemiology of swine fever and prevention: Dr. Mitsugu Shimizu, Former President of National Institute of Animal Health
Their speeches were followed by Q & A session where citizens, experts in medicine, veterinary and public health, and representatives of local businesses shared their thoughts on animal health and infectious diseases.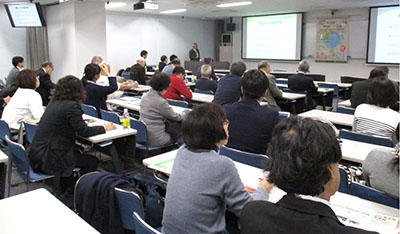 2019.02.28
Internal links
Original sites
External links
File links