Gifu University Symposium: Development and Achievements of School Managerial Staff Training
Gifu University Faculty of Education held a symposium: Development and Achievements of School Managerial Staff Training at Gifu University on February 5, 2019. Approximately 90 people from graduate schools of teacher education (Yokohama National University, University of Yamanashi, Aichi University of Education, and Ehime University), members of Gifu Prefectural board of education, school staff, students and guardians attended the symposium.
After an opening speech by President Hisataka Moriwaki, the first session began. As a keynote speaker, Mr. Yanagisawa from the Ministry of Education, Culture, Sports, Science and Technology (MEXT) gave a speech under the title; Fostering School Managerial Staff and Roles of Graduate Schools of Teacher Education.
In the second session, university professors made presentations on how to develop a new training model for managerial staff in collaboration with graduate schools, etc. and the training details. Four teachers who are currently enrolled at the graduate school of teacher education program spoke about their experiences at their assigned schools as trainees and their views on education.
In the third session of roundtable meeting, Mr. Yanagisawa, members of board of education and the teaching staff who accepted the four teachers at their schools, discussed with one another on stage. They shared opinions among themselves and with the audience regarding the effective training programs. They also talked about what they can learn from a trove of educational assets possessed by schools, and the future of training.
We believe this symposium offered a guide to the graduate schools of teacher education in the development of managerial staff. Gifu University continues to make every effort to educate people to make excellent regional school leaders in the future.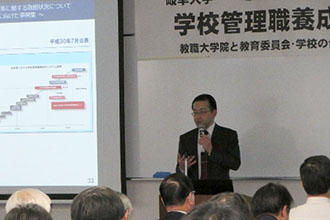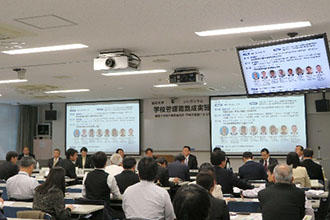 2019.02.20
Internal links
Original sites
External links
File links