Education Faculty-Affiliated Junior High School students won a jury's special award at the 22nd Mapmaking Competition
Mr. Shota Ozaki and Mr. Kota Ozaki (brothers), who are both first-year students of the Education-Faculty Affiliated Junior High School, won a jury's special award at the 22nd mapmaking competition hosted by the Geospatial Information Authority of Japan (GSI), the Ministry of Land, Infrastructure, Transport and Tourism (MLIT) for their excellent mapping work. The two created a map called "Gohei-mochi Rice Cake Map: close in on cake mysteries," as part of their summer break home assignments. A jury's special award is the third highest honor after "The MLIT Minister's Prize" and "The MEXT (Ministry of Education, Culture, Sports, Science and Technology) Minister's Prize."
The Ozaki brothers chose Gohei-mochi rice cakes in Ena City*, Gifu Prefecture as their theme and created a map that details history, origins, shapes of the cakes and tastes of sauces, etc. It also carries the brothers' messages about what motivated them to make the map.
The awarding ceremony was conducted at the office of principle on January 23, 2019 where Mr. Ando from the Chubu Regional Survey Department of GSI handed the award certificate to the brothers.
"I understand that the map was created based on the accurate information, data you have collected by walking every corner of Ena City. Please keep on challenging the competition from the next year onwards," said Mr. Ando.
Mr. Shota and Mr. Kota replied, "It took two weeks to walk in and around the city. We have already made some maps before, but they were not this type of city map that focuses on a specific theme. We both have learned a lot through this project and we would like to take part in the next year's competition under a different theme."
Their prize-winning map is on display at the Science Museum of Map and Survey (Tsukuba City, Ibaraki Prefecture) of GSI until February 17, 2019. The map will also be displayed at libraries in Gifu City from April 2019.
*Gohei-mochi rice cakes in Ena have become well known by the Japanese TV drama program series aired in 2018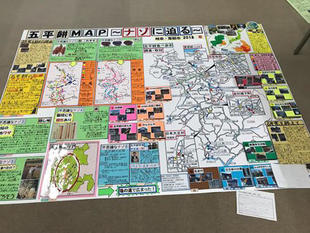 2019.02.07
Internal links
Original sites
External links
File links