Agreement with Nagara Medical Center
The United Graduate School of Drug Discovery and Medical Information Sciences and Nagara Medical Center (Gifu City) signed the agreement for partnership in education and research on January 15, 2019. At a signing ceremony, Professor Masayuki Niwa, dean of the school and Dr. Kenichi Yamada, director of the center gave their signatures to the agreement in the presence of observers.
The United Graduate School of Drug Discovery and Medical Information Sciences was established eleven years ago as Japan's first school entity coming into existence through a combination between national and public universities (School of Medicine and Faculty of Engineering, Gifu University, and Gifu Pharmaceutical University). Since its foundation, the school has been actively engaged in education and research activities in the fields of drug discovery and medical information sciences in conjunction with seven external partner organizations. It aims to develop human resources capable of playing a leading role in cutting-edge research fields where researchers and scholars demonstrate their expertise, foresight and flexible frame of mind.
As the eighth organization joining the partnership, the school signed the agreement with Nagara Medical Center in hopes of fostering more medical professionals within Gifu Prefecture by jointly enhancing quality of education and research.
Under the new agreement, the school will ask the center personnel to teach or give instructions to students at the school as visiting professors.
Nagara Medical Center is particularly well known for its advanced treatments for patients with neurological disorder and research on iPS cells (induced pluripotent stem cells). The close proximity of the two institutions will benefit them in every aspect of the cooperation.
One of the main pillars of "Gifu University's Future Vision Toward 2025" is "contribution to the community," and the school's Charter stipulates that it educates students to contribute to society."
It is expected that the latest agreement will facilitate robust, dynamic exchanges in clinical research, offers students an opportunity to obtain gain deep insight into medicine, and continue to exert a strong leadership in the community and society in the future.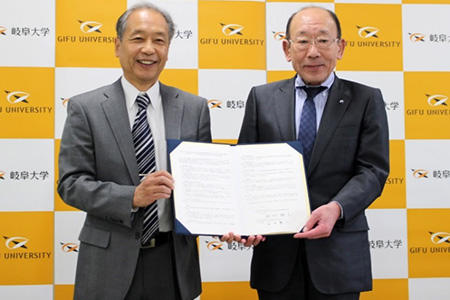 (from right) Dr. Yamada and Professor Niwa
2019.01.31
Internal links
Original sites
External links
File links