University Library: "Seminar on Document Retrieval: How to search for English papers"
The University Library opened the "Seminar on Document Retrieval: How to search for English papers" for international students on December 5, 2018 in conjunction with Gifu University Head Office for Glocalization (GHOGL).
In the past seminars, librarians explained everything in Japanese, and international student assistants (SA) translated relevant materials and served as interpreters. In the December 5 seminar, however, Japanese librarians and staff members did everything from preparations to seminar organization and operation. The university's strong commitments to internationalization represented by a start of joint degree programs (from April 2019) and multiple other glocalization initiatives are the factors behind for this new style of seminar for international students.
Despite a short period of time for notification, 21 students including international students studying PhD courses attended. During the seminar, everything was conducted in English from sending notification e-mails, compiling materials, explanation and operation of a practical training session using PCs, distribution of questionnaires, and handling Q & A session. Demands for workshops in English have been surging among international students year after year, and every seminar participant looked so eager to learn how to search for English papers at the library or online. Even after the seminar, some remained to ask questions to the staff.
The University Library will continues to collaborate with GHOGL members in providing similar seminars for students in hopes that they could meet the real needs of students in both quantity and quality. Two librarians who served as a lecturer and an assistant lecturer for the seminar were those who scored over 800 points in TOEIC, and were recognized as persons of success in the "2017: Gifu University TOEIC Score-up Project." The seminar became an opportunity for the two to demonstrate their hard-earned English proficiencies.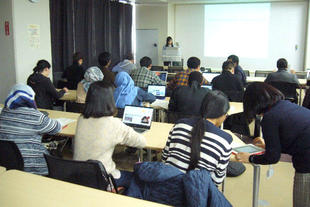 2019.01.24
Internal links
Original sites
External links
File links