"Agreement on Establishing Gifu Region School Collaboration Center"
Gifu University and Gifu Prefecture signed "Agreement on Establishing Gifu Region School Collaboration Center" on January 11, 2019. Its major objectives are to craft a platform for collaboration between communities and schools in an aim to prompt sound growth of children, and promotion of regional activation. In line with this agreement, "Gifu Region School Collaboration Center (name tentative)" will be established within the Gifu University's Center for Collaborative Study with Community in April 2019.
The center will provide practical training sessions for people serving as "Region School Collaboration Promoter" or "Region Coordinator." They are expected to bridge a gap between communities and schools. It also educates and secures university students within Gifu Prefecture who can help children's studies, and encourage them to experience more in their lives, conducts surveys on study support programs/initiatives in each region in cooperation with local municipalities. All these planned activities of the center are designed to address socioeconomic issues that schools are facing today such as depopulation, graying society, tenuous human relationship, absenteeism, children's poverty, etc. The center will keep on communicating its activities and outcomes extensively to the general public.
In the signing ceremony, Governor of Gifu Prefecture, Hajime Furuta said, "I hope many tangible results are brought about through synergetic effect coming from a combination of strong advantages of each institution." "I expect a comprehensive boost of education quality by way of human resource development, producing more volunteer people, etc. under the center's instructions and supervision," said President Hisataka Moriwaki.
Across-the-board, cross-sectional collaboration between Gifu University and Gifu Prefecture will be the first in Japan and they will be engaged in the development of human resources, surveying, researching and promotional activities together.
Gifu University and Gifu Prefecture particularly set their sight on jointly cultivating young talent who is capable of playing a pivotal role in communities in the future.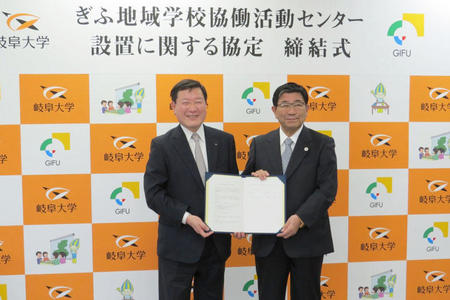 President Moriwaki (left) and Governor Furuta (right)
2019.01.21
Internal links
Original sites
External links
File links