Students studying International Studies in Liberal Arts, Faculty of Regional Studies visit the Office of President
Third-year students studying the International Studies in Liberal Arts, Faculty of Regional Studies visited the Office of President on December 26, 2018.
The International Studies in Liberal Arts started in 2016 in an aim to cultivate human resources capable of playing leadership roles in regions and the international arena. Students study a wide range of subjects before completing first semester of second year. Later, they study at Gifu University's overseas partner universities for a year from second semester of second year to first semester of third year. All or part of the credits they have obtained during their study abroad can be counted as regular credits necessary for their graduation. Under the program, students can graduate in four years.
Those who met President Hisataka Moriwaki were five out of eight students studied abroad for a year from the summer of 2017 and they are the first students of the program. The followings are the numbers of students and their destinations:
•1 students to University of Arkansas- Fort Smith (USA)
•4 students to University of Technology, Sydney (Australia)
"After returning to Japan, I become more active than before." "I made friends with international students studying at my host university, and am still in close contact with them." "I took part in a number of events and activities while abroad." These are the comments made by the students. President Moriwaki said to them, "I am expecting you to become a role model for your juniors wishing to study abroad in the future. Please share your experiences with your juniors encouraging them to realize their dreams."
Currently eleven second-year students at the faculty are studying abroad.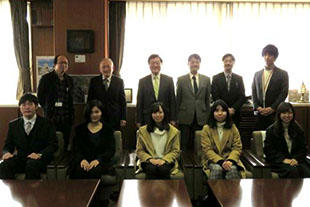 2019.01.15
Internal links
Original sites
External links
File links