Study-Abroad Report Session 2018
Gifu University Head Office for Glocalization (GHOGL) hosted a Study-Abroad Report Session 2018 on December 19, 2018, which was attended by thirty-one people including students, teaching, administrative staff of the university.
Under the theme, "Why not study abroad?" the students who studied abroad in AY 2018 and those who returned from abroad made their presentations.
After the greeting by Dr. Fumiaki Suzuki, Executive Director for International Affairs and Public Relations (Vice President/Director of GHOGL), summaries of the university's student exchange programs were presented and the speeches by ten students followed.
In the summer school report session, those who studied at the university's overseas partner universities (Seoul National University of Science and Technology (South Korea), Griffith University (Australia), and the University of Alberta (Canada)) for two to six weeks, spoke about their intercultural experiences and insights into the countries they stayed.
The students who studied at University of Technology, Sydney (Australia) and Lund University (Sweden)(also partner universities) as exchange students for one year, commented on their studies in classes and life in foreign countries.
The next speakers were the two students who studied at the University of Alberta and Dupont Institute Hospital for Children (USA) for one year under "TOBITATE! Young Ambassador Program" of the Japan Student Services Organization (JASSO) of the Ministry of Education, Culture, Sports, Science and Technology (MEXT).
Speeches continued by two "Valor V-Drug Scholarship" students who studied at National Heart, Lung and Blood Institute, National Institutes of Health (USA) and The University of Sydney (Australia) for one year.
Every speech was inspirational and informative full of interesting episodes about their language studies, cross-cultural experiences and research work, all of which showed growth and maturity of individual students who went through both joys and failures abroad. The session offered the attendees a rare opportunity to share the joy and thrill of studying abroad firsthand. It is expected that the report session will continue to provide a strong incentive to students who wish to study abroad in the near future.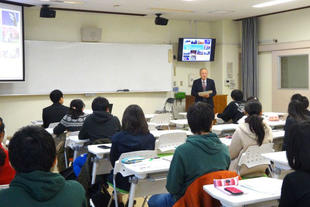 2019.01.11
Internal links
Original sites
External links
File links