Teaching staff of Nagoya University visit the English Center
Professor Sanae Uehara, Professor Tohru Kinoshita of the Graduate School of Humanities, and Associate Professor Midori Matsubara from the Academic English Support Division, Nagoya University visited Gifu University's English Center (one of the affiliated bodies of the Organization for Promotion of Higher Education and Student Support) on December 10, 2018. Upon arrival, the three got briefed on the center's unique educational materials and class operations/management by the staff.
After their briefing, the guests observed a reading class taught by Specially Appointed Associate Professor Haruko Shimazaki of the Center, and then a listening class for first-year nursing students (School of Medicine) taught by Associate Professor David Barker (center director).
The following are some comments made by the three guests regarding their impressions of the classes and the students: "I was very impressed with the well-customized educational materials for individual students. They can be easily adjusted depending on the level of each student. The system for evaluating students is also fair and transparent. All of these factors seem to be playing their part in leading to successful class management." "I want the Center teachers to join Nagoya University faculty development (FD) initiatives and teach our students via the remote system in the future." "Students stayed focused throughout the class and enjoyed reviewing and practicing English even after the class had finished."
An active exchange of opinions and information-sharing between the guests and the Center staff continued for some time.
Every member of the Center staff is strongly committed to improving the quality of lessons and developing educational materials that meet the real needs of the students and the university.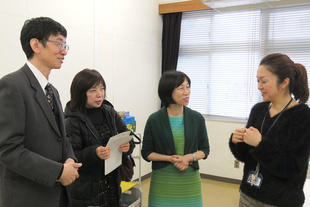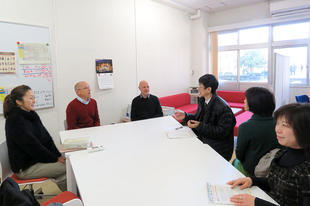 2019.01.11
Internal links
Original sites
External links
File links