2018 Japan-Spain Presidents' Joint Symposium
President Hisataka Moriwaki and Dr. Fumiaki Suzuki, Executive Director for International Affairs and Public Relations attended the 2018 Japan-Spain Presidents' Joint Symposium hosted by the University of Salamanca, Spain on November 27 and 28, 2018. President Moriwaki gave his presentation on November 28.
The symposium offers an opportunity for discussions regarding the current status of universities and future exchange among universities to presidents and vice-presidents in charge of international affairs. It aims to further activate university partnership between the two countries as this year marks the 150th anniversary since the establishment of diplomatic ties between the two nations.
The Letter of Intent among the University of Salamanca, Gifu Pharmaceutical University and Gifu University was signed in November, 2017 and under this agreement, the University of Salamanca, Gifu Pharmaceutical University and Gifu University Joint Academic Symposium was held at Gifu Fureai Plaza (Gifu City) in April this year as part of the University of Salamanca 800th Anniversary Event (President Moriwaki served as Chairman of the 800th Anniversary Event Executive Committee). The symposium was also supported by Gifu Prefecture.
On November 26, just prior to the start of the joint symposium, Gifu University and the University of Salamanca signed the MOU and Agreement to facilitate the active faculty and student exchange between the two institutions. These are the factors behind why Gifu University decided to attend the joint symposium this time.
During the symposium, active back-and-forth discussions and opinion exchange unfolded among speakers and the audience in keynote speech and presentation sessions, meetings among university representatives and a reception party, all of which helped the participants build a strong human network.
On second day of November 28, President Moriwaki gave his speech titled, "Perspective of World University Ranking" in the presentation and discussion session. He gave his views on Japan from the perspective of the world university ranking, his analysis of advantages and special features of universities in Spain as well as the possibilities of future overseas partnership. This two-day joint symposium was widely reported by both major and local newspaper in Spain.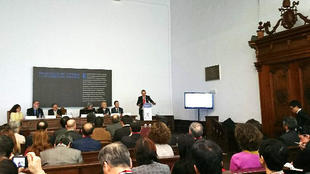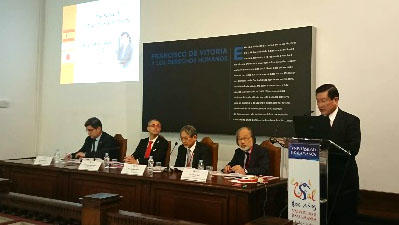 2019.01.07
Internal links
Original sites
External links
File links