The 16th Local Business Inspection Tour
Gifu University organized the 16th Local Business Inspection Tour on December 4, 2018. Started in 2007, the tour aims to help Gifu University board members grasp the status of local industries firsthand, deepen their understanding about regional economies and contribute to society.
The Gifu University participants visited Kai Corporation and Kai Industries Co., Ltd.(Seki City, Gifu Prefecture) and Nagase Integrex Co., Ltd.(also Seki City). The former is the major cutlery manufacturer and the latter, a machine tool maker. When they arrived, the participants first gave Gifu University overview to the employees, which was followed by their inspections on factories and opinion exchange at each company.
In Kai Corporation, the participants were invited to observe a razor and surgical knife factory and a cutlery evaluation and research facility. During the inspection, the participants got briefed by the employees on a series of manufacturing process from press working, heat treating, grinding, finishing and inspection. Later, active discussions unfolded among the participants and the employees over a factory automation and challenges in business overseas.
In Nagase Integrex, the participants had a chance to see a machine tool production site and a demonstration facility. Machine tools produced by Nagase Integrex have made it possible to realize a super high-precision processing work. The participants felt the company's strong commitment to improving its cutting-edge technologies such as vibration control.
Gifu University has been collaborating with the two companies for research purposes, and a number of university alumni are working there. Through their visit and opinion exchange, the participants realized anew that the high expectations are placed on the university's research strengths and human resource development from the business sector.
This local business inspection tour offers the board members a valuable opportunity to see a big picture of local industries. We continue to be engaged in community development initiatives by way of business-academia cooperation and development of human resources.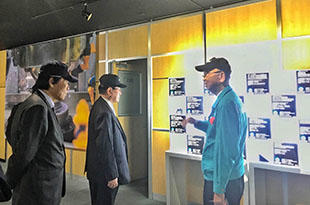 2018.12.26
Internal links
Original sites
External links
File links