Gifu Prefecture Children Support Prize 2018
The laboratory of Professor Kosho Kasuga of Health and Physical Education, the Faculty of Education was awarded Gifu Prefecture Children Support Prize 2018. The prize goes to the individuals or organizations which support Gifu children's activities, and have been recognized by citizens for their efforts and achievements.
Professor Kasuga's laboratory members created the physical exercise for children, and have been giving instructions on how to exercise to the children at Noritake Elementary School (Gifu City) since 2015. They were honored for their contribution to the promotion of children's health.
Professor Kasuga and the members met with President Hisataka Moriwaki at the Office of President on December 3, 2018 and reported the prize winning.
Professor Kasuga expressed his joy and appreciated the fact that his and his team's efforts were recognized by the awarding. "Please keep on working hard for the local community and hand down your excellent work to your juniors," said President Moriwaki.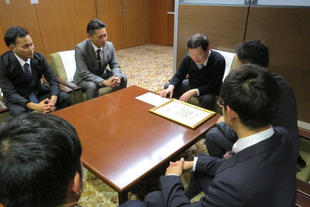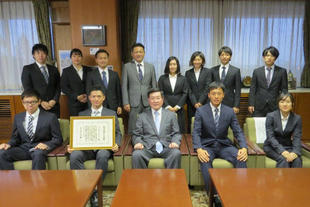 2018.12.17
Internal links
Original sites
External links
File links