Sustainable Campus Award 2018: Prize of Encouragement
Gifu University was presented the "Sustainable Campus Award 2018: Prize of Encouragement" in the construction and equipment division of the Campus Sustainability Network in JAPAN, 2018 (CAS-Net JAPAN, Agency for Health, Safety and Environment, Kyoto University) at Iwate University (Iwate Prefecture) on November 17, 2018.
CAS Net JAPAN was established in March 2014 in an aim to build sustainable, ecological society in Japan. The prizes go to any outstanding achievements in building sustainable campus system in the following three divisions: "construction and equipment," "university management," and "student activity and regional collaboration."
Gifu University was honored for its high energy conservation performances, protection of biodiversity, and government-business-academia alliance through ESCO* (Energy Service Company) project introduced at the University Hospital in 2016.
*ESCO: ESCO program is designed to carry out energy-saving repair and maintenance work based on proposals made by companies with a great deal of energy-conservation expertise. Its major objectives are to promote energy-saving initiatives and effective cut in utility spending. Surplus funds generated from less use of energy are spent to purchase energy-efficient equipment and its maintenance costs.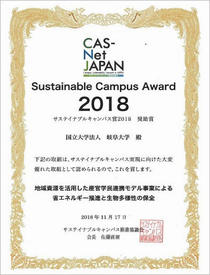 2018.12.10
Internal links
Original sites
External links
File links