The 8th Press Conference by the President in AY2018
Gifu University held the 8th Press Conference by the President on November 21, 2018.
First, President Hisataka Moriwaki spoke about the establishment of a new joint course of veterinary medicine at the graduate school level, and its role in Gifu University Future Vision toward 2025. Professor Makoto Sugiyama, Dean of the Faculty of Applied Biological Sciences and Professor Toshihiro Unno (also from the same faculty) gave their presentations about the university's ambitions and efforts toward the course establishment and its special features in detail.
Gifu University started the joint department of veterinary medicine with Tottori University in 2013 in order to promote a partnership and collaboration in the field of veterinary education. The opening of a new veterinary medicine course at the graduate school is slated for April 2019.
In the new course, teaching staff of Gifu University and Tottori University will provide educational and research instructions for students through a remote lecture system. It aims to cultivate highly-skilled, experienced educators and researchers in the field of veterinary medicine.
While promoting the faculty education for future veterinary generalists, we have set the following three goals to produce highly-skilled veterinary specialists by offering students the graduate school level education in accordance with our educational policies.
1. Animal Hygiene and Public Health Specialist
We aim to cultivate specialists who are capable of coping with an outbreak of infectious diseases in livestock such as bird flu or foot-and-mouth epidemic, exert a strong leadership in time of contingencies in regions in the fields of animal hygiene and public health.
2. One Health Specialist
We aim to cultivate specialists who have extensive knowledge and high communication skills in order to tackle global challenges such as controlling communicable diseases which may affect both humans and livestock, and harm the environment.
3. Specialist who can handle intractable diseases and create new medicine
We aim to develop clinical veterinary specialists who will contribute to the community as a strong leader in veterinary medicine, and also work for a refractory ailments. As researchers or educators, they are also expected to develop new technologies from basic clinical research results and find new medicine or cure (known as "translational research*").
*Translational research: an intermediary research that can bridge between basic research results and the development of next-generation diagnosis and treatments
Gifu University remains committed to the development of human resources who can devote themselves to the community and the world.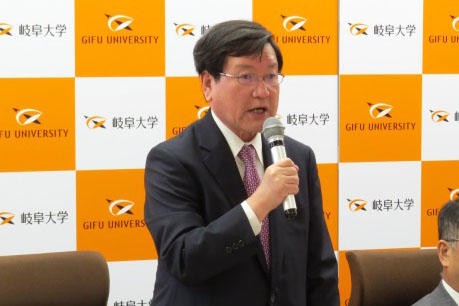 2018.12.06
Internal links
Original sites
External links
File links