Disaster Prevention Symposium
Gifu University held the Disaster Prevention Symposium at Mino Kanko Hotel (Mino City, Gifu Prefecture) on November 20, 2018.
The main purposes of the symposium are to help people learn from the latest series of natural disasters and share ideas with citizens about disaster prevention and reduction based on the academic expertise and scientific finding.
The symposium started with the speeches by President Hisataka Moriwaki and Mayor Tetsuhiro Muto of Mino City.
"The symposium will offer you the most up-to-date information about natural disasters gathered and analyzed by Gifu University's scholars and researchers. I hope it will be of wider use for regional self-and public help activities," said President Moriwaki.
In the subsequent keynote speech sessions, Professor Nobuoto Nojima from the Faculty of Engineering gave a speech entitled; "Earthquake Prevention in Chuno Region (central area of Gifu Prefecture)." It was followed by the speech of Associate Professor Morihiro Harada from the River Basin Research Center, titled "Possible Risk Factors from Climate Change on the Nagara River Region (Gifu City) and its Adjustment Measures."
Professor Nojima described the status of active faults in the Chuno Region, lessons learned from the latest earthquakes and damages. He underscored the importance of knowing hazardous, treacherous places in the neighborhood, preparing against the next "big one" and enhancing individual and regional disaster prevention skills.
Associate Professor Harada spoke about "July 2018 Downpour" which wreaked havoc on the extensive Chuno region. He put a special emphasis on the necessity of "community-building" strong enough to withstand disasters by way of collecting and sharing risk information with residents.
In the second half of the symposium, Senior Professor Akiyoshi Takagi from the Faculty of Engineering led the workshop entitled, "Learn from the July 2018 Downpour and Prepare for the Future." More than 280 people including government officials and citizens took part in the symposium. This large turnout of people indicates that the event was a huge success, which gave people a chance to give serious thoughts to future disasters.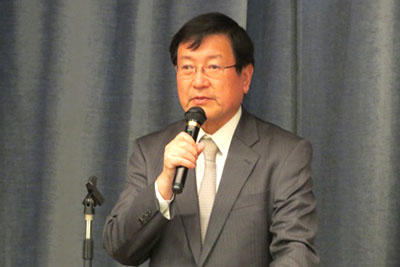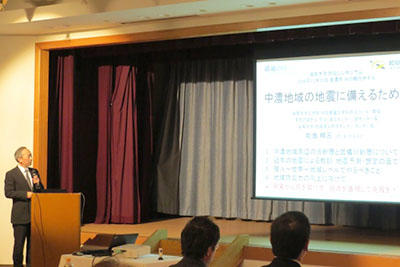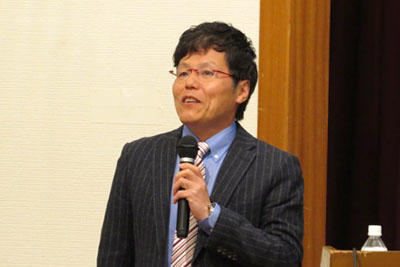 2018.12.06
Internal links
Original sites
External links
File links