Completion Certificate Ceremony for "ISO14001 Internal Environmental Auditor Training Course"
The Completion Certificate Ceremony for "ISO 14001 Internal Environmental Auditor Training Course" was held at the Office of President on November 7, 2018. The ceremony was attended by President Hisataka Moriwaki, Mr. Seiki Ofuji, Executive Director for General Affairs and Finance, Professor Osamu Sakurada (Faculty of Engineering) who serves as a chief environment manager and Associate Professor Tomonori Iwama (Faculty of Applied Biological Sciences) serving as a deputy chief environment manager.
All facilities of Gifu University excluding the University Hospital have already obtained ISO 14001 Certification (the international standard for environmental management systems), and volunteer staff and students carry out ISO 14001 internal environmental auditing every year. In internal auditing, they check whether the university's environmental management system is operated in compliance with ISO 14001 standard or not.
In the training course, the participating students and the staff were first given a briefing on ISO 14001 standard, and received training about the internal auditing from the invited lecturers. They later carried out the internal auditing and made their comments from their own perspectives about the environmental protection.
At the ceremony, President Moriwaki handed out a certificate to each student (12 students in total) who have completed the training. "It was quite a precious opportunity for me to get to know more about the university's environmental policies and activities," said one of the students at the opinion exchange with the president. It was followed by the comments such as "I was impressed with the speed of corrections after our notification."
"We need to make more efforts to raise the students' awareness of the university's environment conservation activities." We expect the students will continue to work for the protection of environment by maximizing their training experiences in the days to come.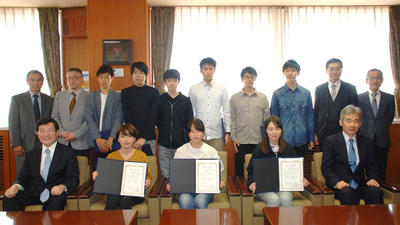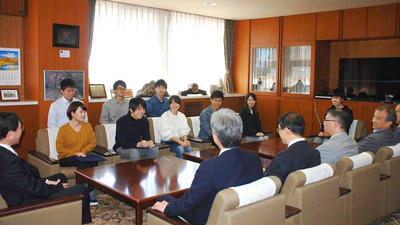 2018.12.06
Internal links
Original sites
External links
File links