Delegation from Bangladesh Agricultural University (BAU) pays a courtesy call on President Moriwaki
Vice-Chancellor Ali Akbar and the delegates from the Bangladesh Agricultural University (BAU) paid a courtesy call on President Hisataka Moriwaki on October 17, 2018.
Dr. Akbar visited Gifu University to attend the 6th UGSAS-GU Roundtable & Symposium 2018 held from October 16-18, 2018.
The meeting with the president was attended by Dr. Fumiaki Suzuki, Executive Director for International Affairs and Public Relations, Professor Ken Hiramatsu, Vice Dean of the United Graduate School of Agricultural Science (UGSAS: in charge of international affairs), Professor Kohei Nakano, also the UGSAS Vice Dean (specially-appointed instructor), Professor Shinya Oba (UGSAS), and Ms. Haruko Nonomura, Director for International Affairs and Planning of the Gifu University Head Office for Glocalization (GHOGL). In addition, Professor Most Hushna Ara Naznin from BAU(a researcher at Gifu University) and Professor Umakanta Sarker, a graduate of BAU who works for Bangabandhu Sheikh Mujibur Rahman Agricultural University (BSMRAU, Bangladesh), were at present.
Gifu University and BAU signed the agreement on exchange in 2001, and the two universities' partnership has been thriving thanks to long-term, vigorous exchange among researchers.
In the meeting, the president and the BAU delegates discussed how to share information on the differences in the university systems between Bangladesh and Japan, and how to bolster the relationship for the future. It is expected that Gifu University and BAU will continue to have a dynamic, lively exchange particularly in the field of agriculture in the days to come.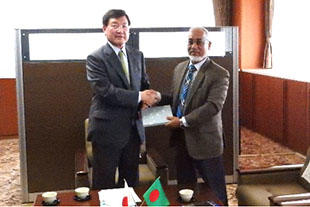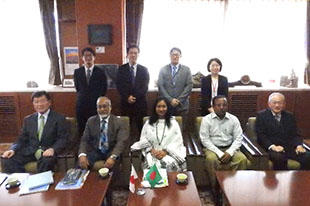 2018.11.20
Internal links
Original sites
External links
File links