Robocon runs a booth at Ogaki Future Festival
Gifu University student club, Robocon (Robot Contest) set up a booth at Ogaki Future Festival held from October 20 - 21, 2018 in Ogaki City (Gifu Prefecture).
Ogaki City is hosting a series of events in commemoration of the 100th anniversary since the start of its municipal government this year. The Ogaki Future Festival was held on the theme of "For Children of the Future" whereby people of all age and of all walks of life can envision the future and see the latest robot technologies and other cutting-edge sciences today. Gifu University students attended the festival as part of the university's initiatives to contribute to the community development.
A lot of children accompanied by their parents enjoyed operating the robots which the university students competed with at the Tokai Region Robot Competition ("Torobo"), and observing the robot parts on display. They introduced the university's robot technologies and other academic and research activities to the visitors.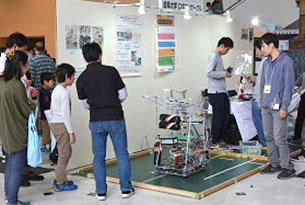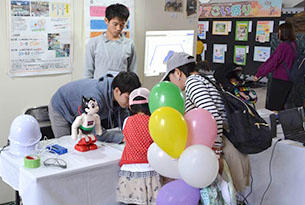 2018.11.15
Internal links
Original sites
External links
File links