The 1st English Circle of Friends in Fall Semester 2018
The Gifu University Head Office for Glocalization (GHOGL) hosts an English conversation gathering on campus called, "English Circle of Friends" twice a month during the lunch break. Japanese students, international students, faculty and administrative staff are all welcome to enjoy English conversations in a casual setting. The session is designed to offer participants the opportunity to communicate in English.
On October 17, the 1st English Circle of Friends in the 2018 Fall Semester was held on campus. The activity was "Introduction BINGO" where participants used a customized bingo card containing a list of 25 interesting traits and items introducing themselves and finding people who match the traits on the card by asking questions. They must write the person's name in the corresponding box or have the person sign the appropriate square. Participants mingled with each other while trying to obtain as many BINGO lines as possible. This activity gave the participants a chance to learn something about someone else while having fun at the same time.
This 1st session was attended by the students who took part in the English Language & Culture Seminar (ELCS) Program of the University of Alberta (Edmonton, Canada, Gifu University's partner university overseas) and those who are receiving the Administrative Staff Global-Mind Development Training. The 2nd English Circle of Friends is scheduled on October 31 on the theme of "Halloween." You will have a lot of fun enjoying Halloween games and questions in English. Please join us!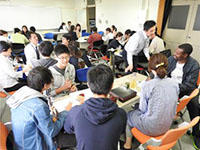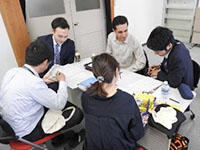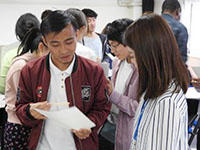 2018.11.08
Internal links
Original sites
External links
File links