Symposium "Reality of University and Community Partnership in Support of Students with Developmental Disorder"
Assistant Professor Ryo Horita (Health Administration Center) and Lecturer Chihiro Kawakami (Medical Education Development Center: MEDC) co-hosted the symposium, "Reality of University and Community Partnership in Support for Students with Developmental Disorder" on October 14, 2018. The symposium on students with disabilities started last year and the latest symposium focused on continuation and expansion of student support. Public health and welfare services, support programs/projects, case studies of school admissions and job hunting for students with disabilities were the major topics for the symposium.
The symposium was attended by 97 people who are working in the fields of education, government organizations and welfare services.
In the first half of the session, on behalf of the organizers, Assistant Professor Horita explained the intent of the symposium. The speeches by the six guest speakers followed. They were:
- Mr. Hisatoshi Kato (Department of Health and Welfare for Persons with Disabilities, Ministry of Health, Labor and Welfare): "Trend of Health and Welfare Policy for Persons with Disabilities in relation to Student Support."
- Associate Professor Koju Funakoshi (Disability Support Office, General Student Support Center, Kyoto University): "Overview of Higher Education Accessibility Platform Programs"
- Ms. Ayumi Kawamura (Career Center for Students with Disabilities, Gifu University): "Case Studies of On-Campus Support for Students with Developmental Disorder"
- Ms. Tomoko Matsumoto and Mr. Hiroki Tanabe (Geo Holdings Corporation): "Case Studies of Accepting Students with Developmental Disorder"
- Mr. Masanao Shibahashi, Mayor of Gifu City gave his speech about the city's initiatives of assisting physically challenged.
In the second half of the symposium, the participants were divided into four to six groups for group discussions. They exchanged information about support arrangements and drafted programs to meet the needs of students together. It was followed by lively discussions including question and answer session between the speakers and the audience. It is indispensable for supporters inside and outside of universities to build a collaborative framework, have a shared recognition and goals, know both the strengths and weakness of each other, and continue to assist the students. Students will be able to receive necessary care and enjoy safe, comfortable campus life and pursue their future careers under such collaborative framework.
Supporters from different business fields met and discussed wide-ranging topics. The second symposium marked another great success and Gifu University will continue to hold and expand this type of symposium from this year onward.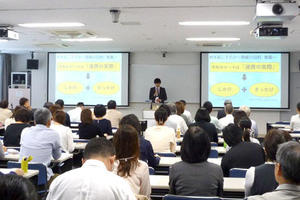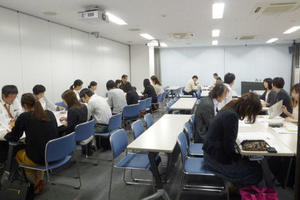 2018.11.06
Internal links
Original sites
External links
File links