Gifu Prefectural Museum and Gifu University Joint Exhibition
"Gifu Prefectural Museum and Gifu University Joint Exhibition: Founder of Natural Treasure Manabu Miyoshi" opens at the University Library from October 10 - November 12, 2018. The Gifu Prefectural Museum holds a number of travelling exhibitions and workshops across Gifu Prefecture in pursuit of becoming a museum that can adapt to the changes of the times and meet the needs of society.
Dr. Manabu Miyoshi (1862-1939, a native of Gifu Prefecture) was a staunch advocate of natural treasure conservation. He felt a strong sense of crisis after he witnessed serious destruction of natural treasure during the Meiji Period (1868-1912). In the years of Meiji, due to the government-led intensive modernization efforts, beautiful landscape, precious tress and many other invaluable natural resources disappeared one after another.
Dr. Miyoshi was in the vanguard to draft laws to protect Japan's distinctive natural assets. Dr. Miyoshi was also one of the founding fathers of botany in Japan. He introduced the concept of plant physiology to this country and devoted himself to the development of this academic field. He left many research reports on plant ecology including sakura cherry flowers.
On October 9, Mr. Katsuaki Hirai, Director of the Gifu Prefectural Museum and President Hisataka Moriwaki of Gifu University gave opening speeches for the exhibition.
"I hope students, administrative and teaching staff of Gifu University feel more familiar with the museum through this exhibition." said Mr. Hirai. President Moriwaki commented: "The exhibition is an important milestone for our Campus Museum project whose aim is to collect and store the university's "treasure" and introduce them to the public in the event of Gifu University's 70th anniversary celebration in 2019."
Gifu Prefectural Museum and Gifu University Joint Exhibition is the first of its kind ever opened within the premises of Gifu University. Please come to see the exhibition and learn a lot about Dr. Miyoshi, a great historic figure born in Gifu Prefecture.
Gifu Prefectural Museum and Gifu University Joint Exhibition: Founder of Natural Treasure Manabu Miyoshi
Period: October 10 (Wednesday) to November 12 (Monday), 2018
Venue: Entrance Hall, 2F of University Library
Opening Hours: 9:00-21:30 (weekday) 10:00-18:00 (Saturday)
         9:00-17:00 on October 25 (Thursday) and 26 (Friday)
---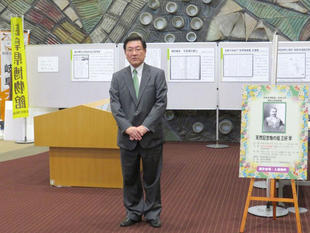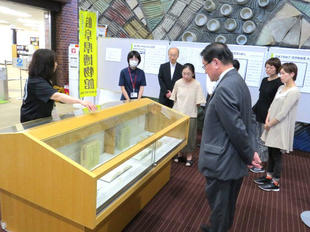 2018.10.22
Internal links
Original sites
External links
File links