Opening of Gu Composites Center
The Gu Composites Center opened on October 3, 2018.
As a material engineering and manufacturing research center, the Gu Composites Center carries out a great variety of composite material research programs and projects, ranging from molecular aggregates to fiber and resin composites.
Under the leadership of Professor Akiyoshi Takeno, Director of the Center, 55 research staff will work for an establishment of a pioneering, unique research hub that integrates material chemistry, biochemistry, mechanical engineering, and even medicine, to achieve production process of diversified products in small quantities through the concept of "Tailored Materials & Design." The center aims to develop lightweight parts for aircraft and automobiles as well as composite materials used in medical applications in the human body.
In the opening ceremony on October 3, Ms. Noriko Iwata, a special guest from the Chubu Bureau of Economy, Trade and Industry, Ministry of Economy, Trade and Industry gave a speech to congratulate on the opening of the center. The ceremony was attended by approximately 220 people including President Hisataka Moriwaki, members of the board, researchers and students of Gifu University. Members of "Composite Highway Consortium (a cluster of higher educational institutions, public laboratories and research institutes in the Tokai and Hokuriku Region) and company representatives also took part in the ceremony.
Mr. Yasunori Kaneko from MIZUNO Corporation and two other speakers gave commemorative speeches for this occasion.
In the informal meeting, researchers, guest speakers and participants exchanged their views on the future of the center and composite material technology.
The Gu Composites Center focuses not only on academic research but also on partnership with business entities and organizations for an innovative and practical use of new technologies in the future.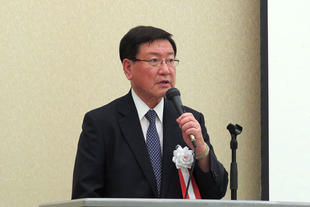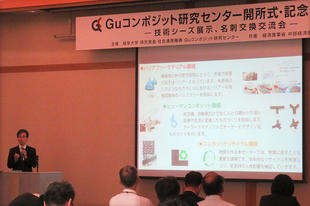 2018.10.16
Internal links
Original sites
External links
File links