Gifu University Intensive Environment Seminar "Successful Vegetable Cultivation through Proper Use of Fertilizer and Technique"
The United Graduate School of Agricultural Science (UGSAS: composing universities: Gifu University and Shizuoka University) held an open seminar, titled, "Successful Vegetable Cultivation through Proper Use of Fertilizer and Technique" at the Gifu University Satellite Campus (near the JR Gifu Station, Gifu City) on September 22, 2018.
The seminar was held to publicize collaboration between universities and relevant organizations to address the following: vegetable cultivation from the standpoints of microorganisms, sunlight and fertilizer, and possible impacts on the environment by excessive use of fertilizer. It also aimed to introduce the programs/projects of UGSAS to the public.
To begin with, Dr. Masateru Senge, Dean of UGSAS gave an opening speech, which was followed by an introduction of three lecturers by Professor Hiroyuki Koyama (Faculty of Applied Biological Sciences).
The following are the names of lecturers and their presentation titles:
- Associate Professor Masafumi Shimizu of Gifu University: "Vegetable cultivation capitalizing on power of bacteria"
- Professor Akio Morita, Lecturer from Shizuoka University: "How to make rich flavored tea leaves: "shade" plays a key role"
- Mr. Tatsumi Wada, Lecturer from the Gifu Prefectural Agricultural Technology Center: "Right assessment of soil could decrease the use of fertilizer"
Many questions were raised after each presentation. They were; "How can we find bacteria sold at do-it-self stores?" "Are there any differences in health benefits depending on the degrees of tea leave roasting?", and "How do we balance between the use of fertilizer and soil protection). There were 122 attendees, and they showed a great interest in the unique presentation by each lecturer.
A lot of messages found in the questionnaire read that they are expecting the similar environment seminar next year. The big turnout represented people's strong awareness of the importance of the environmental conservation.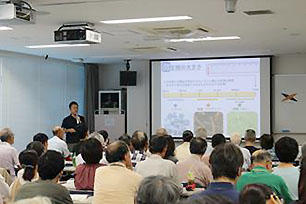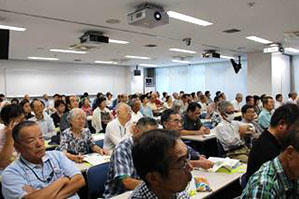 2018.10.12
Internal links
Original sites
External links
File links