President Moriwaki enjoys a food truck "Kitchen Car"
A food truck "Kitchen Car" comes to Gifu University to offer a variety of dishes to customers from October 1 - 12, 2018. This food service is expected to ease congestion at the university's dining halls during lunch break.
On October 1, 2018, President Hisataka Moriwaki and Dr. Satoshi Ema, Executive Director for Academic and Affiliated School Affairs, Vice President ordered the fried chicken with vinegar and tartar sauce.
When a Turkish cuisine truck came to campus, people were transfixed by the eye-popping performance by the store staff when he handed a Turkish ice-cream to a customer.
"I would like to order a dish today. I usually bring a boxed lunch but it's really fun to have lunch in the totally different environment. I hope a food truck comes to campus at least once a month." said one of the students.
It was a fine day, and many people enjoyed the dishes they ordered near the pond. The food truck serves different kind of dishes every day until October 12, 2018. Please try culinary delicacies by yourself!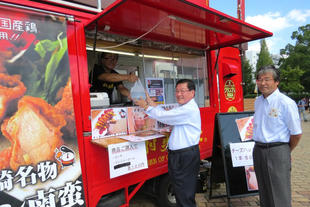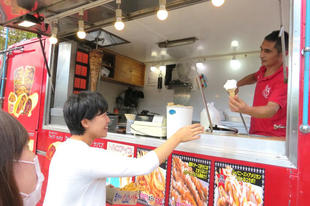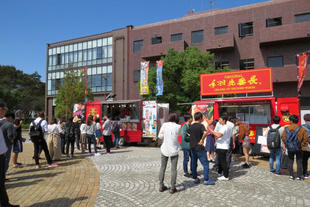 2018.10.09
Internal links
Original sites
External links
File links