Mr. Ryoichi Akamatsu of the Graduate School of Education finishes third at Male High Jump Category
Mr. Ryoichi Akamatsu, a first-year student of Arts and Physical Course, the Graduate School of Education finished third at the male high jump category (215cm) at the 87th Emperor's Cup for Japan Student Athletics Interscholastic Championships (Japan Intercollegiate Track & Field Games) held at the Kawasaki Todoroki Stadium (Kanagawa Prefecture) from September 6 - 9, 2018.
In this championship, track and field clubs of universities across Japan compete with one another by university. Individual players and teams also compete for their performances by each sport event. The Emperor's Cup goes to a male winner and the Princess Chichibu Cup goes to a female winner.
Mr. Akamatsu attended the championships for five consecutive years since his first year in the university, and worn first prizes at the male high jump category in 2015 and 2017.
Mr. Akamatsu and Assistant Professor Ryohei Hayashi, the university's track & field club coach, paid a courtesy call on President Hisataka Moriwaki at the Office of President on September 21. "It was really a stiff competition, and anyone could win the prize." said Mr. Akamatsu when he reported his wining to the president. Assistant Professor Hayashi expressed his strong wish for a big victory of Mr. Akamatsu in the 88th championships held in Gifu Prefecture in 2019. President praised his great achievement and said, "Please take good care of yourself and not get injured while practicing. I look forward to seeing your remarkable performances at the championship in 2019.
Mr. Akamatsu will compete at the 73rd National Sports Festival & the 18th National Sports Festival for People with Disabilities held in Fukui Prefecture this October.
Please join us to wish him the best of luck!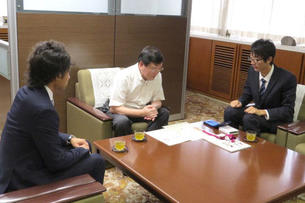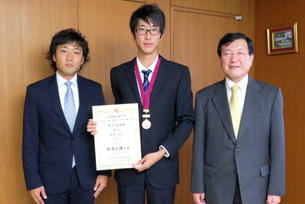 2018.10.05
Internal links
Original sites
External links
File links