Signing of Agreement with the Mariano Marcos State University
Gifu University and the Mariano Marcos State University (MMSU, the Philippines) signed the Agreement on Student and Faculty Exchanges on September 10, 2018.
Dr. Shirley C. Agrupis, the president of MMSU and Associate Professor Rhoda Beth M. Santos visited Gifu University to attend the signing ceremony held at the Office of President.
MMSU was established in 1978 and is located in Ilocos Norte, a province in the northwestern part of Luzon Island. The Ilocos Region is one of the famed tourist spots in the Philippines and is attracting a large number of people from around the world every year for its scenic beauty.
With the signing of the agreement, a strong, dynamic partnership is expected to be forged between the two universities. Such partnership may include student exchange in the academic fields of biological production, the development of new energy sources, and researcher exchange in the sphere of organic agriculture focused on decreased agrichemicals, water resource management and technology, the development of bioenergy system and the automation of agricultural work (including robot engineering and mechatronics).
Dr. Agrupis completed her doctoral program of the United Graduate School of Agricultural Science (UGSAS) in 2000, and with her active engagement in forming a friendship, both universities look forward to a robust partnership in the years to come.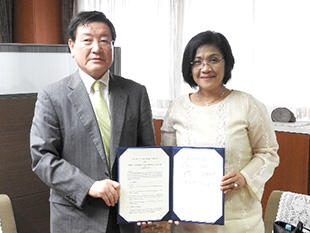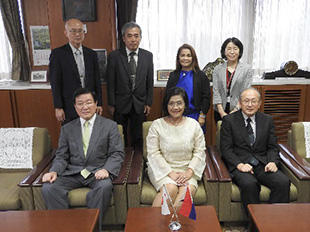 2018.10.01
Internal links
Original sites
External links
File links