The 15th Local Business Inspection Tour
Gifu University organized the15th Local Business Inspection Tour on August 8, 2018. Started in 2007, the tour aims to help Gifu University board members grasp the status of local industries firsthand, deepen their understanding about regional economies and contribute to society.
On August 8, Gifu University participants visited AMADA CO., LTD. (in Toki, Gifu Prefecture: machine tool business) and Okuma Corporation (in Aichi Prefecture: multitasking machine business). In each inspection, they gave a summary of the university, held meetings with company officials and toured around the facilities and factories.
In AMADA CO., LTD, the participants were invited to observe T876 Factory (for metal punching machines: established in 2017), and later on that day, they inspected the DreamSite (DS) (machine tool part processing and assembly factory) in Okuma Corporation. Both factories have been boosting productivity by data management on machine operations and processing conditions. IoT (Internet of Things) is a key common factor of enhancing productivity for both companies. The participants witnessed almost fully automated production process (except for monitoring and some coordination work) there, and felt the next big technological revolution, often dubbed as "The Fourth Industrial Revolution" taking place in the factories.
These R&D intensive two companies had conducted a number of joint research programs with Gifu University. The participants shared their views and ideas with the company officials over the reality of production site and technological challenges they face. By their visit, the participants felt high expectations for the university from the companies in terms of innovation research and human resource development.
This local business inspection tour offers the university board member a valuable opportunity to see a big picture of local industry. Gifu University continues to engage in community development through business-academia collaboration and human resource development.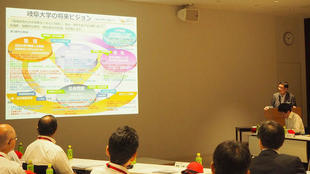 2018.09.13
Internal links
Original sites
External links
File links