Meeting with Senior High School Principals
A meeting with senior high school principals in Gifu Prefecture was convened on July 26, 2018. Started in 2006, this annual meeting serves as an important venue for opinion-exchange and promotion of mutual understanding between Gifu University and senior high schools. In the meeting, people discuss a wide range of agenda and pursue possible solutions together.
On July 26, twenty principals represented by Mr. Toshiaki Takagi (Chair of the Gifu Prefecture Senior High School Principal Association, and presently principal of Gifu Kita Senior High School) attended the meeting. Twenty board members and professors from the university participated in the meeting. They included President, Dr. Hisataka Moriwaki, Dr. Satoshi Ema, (Executive Director for Academic and Affiliated School Affairs, Vice President (also serves as Director-General of the Organization for Promotion of Higher Education and Student Support (ORPHESS)).
The following speeches were given by the participants:
- Dr. Moriwaki spoke about the current status of Gifu University and "Gifu University Future Vision Toward 2025."
- Mr. Takagi explained school realignment and revitalization plan, and
- Dr. Ema talked about the university's engagement in forging a strong connection between high schools and the university
Later, an opinion exchange session began with Professor Mamoru Koketsu, Assistant to President (Vice Director-General of ORPHESS) as a moderator. Their topics covered a wide variety of issues such as university admission, campus life, human resource development and students' career paths. Many of the principal association members expressed their hopes and expectations for the university in tackling multiple challenges that individual schools face today. The university attendees reconfirmed the school's crucial roles as an indispensable education and research base rooted in the community.
After the meeting, the participants were invited to tour campus facilities. First, Professor Kenichi Suzuki of the Center for Highly Advanced Integration of Nano and Life Sciences (G-CHAIN) introduced the special reflecting microscope installed at the center (Gifu University is the first and sole institution in Japan that has installed this microscope). Next, they inspected one of the most advanced large-scale analysis equipment at the Life Science Research Center. They received explanations from the students there about how they collect and analyze data by using the equipment.
The meeting and the facility tour became another valuable opportunity for the participants to strengthen ties between the university and senior high schools.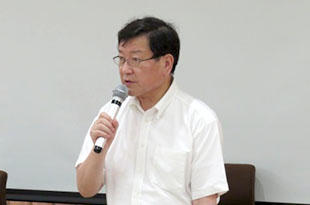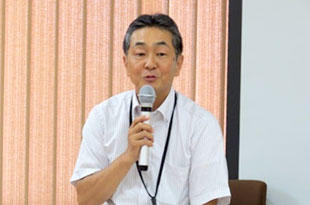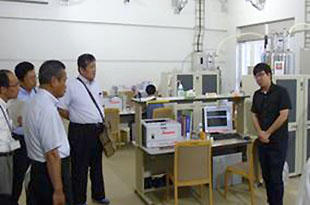 2018.08.27
Internal links
Original sites
External links
File links