Mr. Keisuke Isogai of MEXT visits Gifu University
Mr. Keisuke Isogai of the Research Promotion Bureau, the Ministry of Education, Culture, Sports, Science and Technology (MEXT) visited Gifu University on July 2, 2018.
After the meeting with Gifu University President, Dr. Hisataka Moriwaki, and other board members, and discussed university's education and research activities, he inspected the laboratories and research base within campus which are affiliated with the Gifu Renewable Energy System Research Center opened in April 2018.
Mr. Isogai first went to the building's rooftop to see the solar power generation systems and observation equipment. He was briefed by the staff about the experimentations of new, highly efficient solar panels, the sunlight intensity and spectrum observation site (one of the five solar power generation observation sites in Japan), and the experimentations to detect any changes in sunlight intensity by time and space, both of which are major elements for diminishing solar power generation.
Afterward, Mr. Isogai was invited to observe the Smart Grid Power Control Engineering Joint Research Course, the Faculty of Engineering, which is the university's first industry-academia joint laboratory. There, the staff explained to Mr. Isogai about a simulation system of "virtual power plant," which manages 6,500 air conditioners in offices and reduces energy consumption up to an power level of one thermal power plant output in capacity. Mr. Isogai also inspected the Center for Advanced and Smart Die Engineering Technology (G-CADET) and the Center for Highly Advanced Integration of Nano and Life Sciences (G-CHAIN) within campus.
It is expected that Gifu University plays a leading role in life sciences, environmental sciences and processing, three of which the university particularly excels in, and gives its achievements back to the community in the future.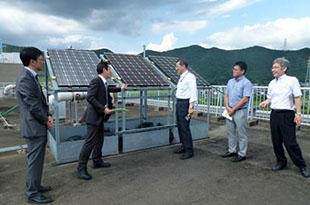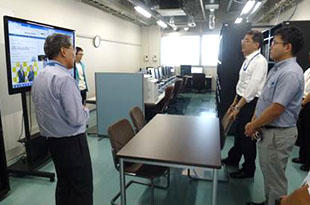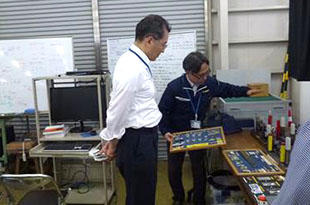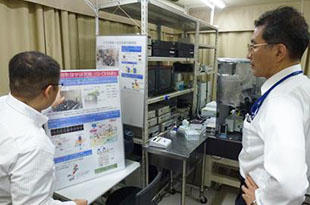 2018.08.01
Internal links
Original sites
External links
File links