Associate Professor Tetsushi Kawasaki awarded "Hirameki ☆Tokimeki Science Prize"
Associate Professor Tetsushi Kawasaki of the Mathematics Education, Faculty of Education, Gifu University received the "Hirameki☆Tokimeki Science Prize" from the Japan Society for the Promotion of Science (JSPS).
This "Hirameki☆Tokimeki Science Prize" goes to researchers who help young learners become familiar with science, guide them to continue their studies on their own initiatives. The prize honors people who continuously conduct his/her research activities in the JSPS program called, "Welcome to the University's Research Laboratory - KAKENHI" whose major objective is to communicate research results produced through the program to the general public.
Dr. Kawasaki was presented the prize for his unique class operations where students (mainly five-and six-year elementary school students and one-year junior high school students) are taught how to pay attentions to small things in daily lives. For instance, he asks the students to measure the mass without a scale, to pass a ball back and forth with classmates while walking. He also uses special calculators capable of displaying a function in classes. They are all designed to help students appreciate the joy of studying science and mathematics. His constant efforts for children's education has earned him the prize this year.
On July 19, 2018, the awarding ceremony was held at the Office of President. Gifu University President, Dr. Hisataka Moriwaki handed out the certificate and a commemorative gift to Dr. Kawasaki. "It is very important to offer children the environment to study creatively and proactively from an early stage. The joys and excitements of children inspire us to design and develop new educational tools and materials," said Dr. Kawasaki and expressed his gratitude.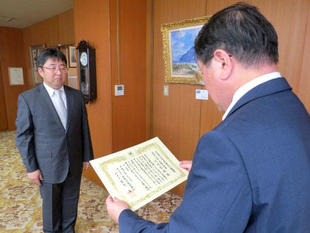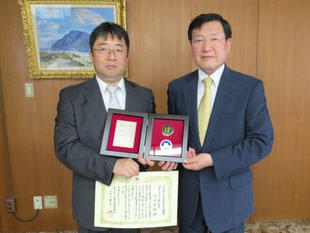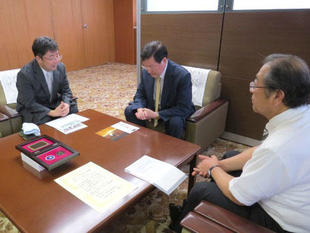 2018.07.31
Internal links
Original sites
External links
File links