Associate Professor Koji Kinoshita of Faculty of Engineering is presented with Minister of the Environment Award
Associate Professor Koji Kinoshita (Department of Civil Engineering, Faculty of Engineering, Gifu University), Mr. Hirofumi Yamada, Chairman of Japan Steel Structure Circulation Blast Association (JSCB), Mr. Shohei Yamada, Board Director of Yamada Infra Technos Co., Ltd., and Mr. Minoru Suzuki, Chairman of Eco Clean Blast Research Association were presented with the "Minister of the Environment Award" in the category of "Environment Award 2018" in Tokyo on June 7, 2018.
The "Environment Award" goes to individuals, enterprises, organizations and groups whose activities contribute to conservation and improvement of the environment, or those who are expected to make such a contribution in the future. The major objective of this award is to raise people's awareness about the environment as the world today is faced with global warming, depletion of natural resources, extinction of species and other grave environmental issues.
Dr. Kinoshita and his team were presented with the highest "Minister of the Environment Award" in the "Environment Award" for their research, "Recyclable Blast Coated Film Removal for Lead and PCB Waste Reduction." "The world will change if waste is reduced," is a catchphrase of their research activities. To reduce a large amount of waste containing toxic materials such as lead and PCB generated in time of repainting steel bridges for extended durability, Dr. Kinoshita used metal grit materials instead of conventional non-metal grinding materials, and this makes it possible to reuse the grit materials several times. The team has succeeded to reduce the waste down to one fortieth as opposed to the volume produced via conventional method.
Because metal grit materials are heavier, more vulnerable to humidity and more expensive than non-metal grit materials, they were mainly used at factories, but by introducing the new collection method, securing the dry environment, and by developing mobile blast equipment with the separation functions between the grit materials and paint wastes.
Furthermore, because there is no need to break down the metal grit materials, a considerable amount of industrial waste and debris containing toxic materials can be reduced, which proves to be instrumental in securing safety and improvement of product quality.
The team is also going to develop "Eco Clean Hybrid Method" to prevent fatigue of steel bridges by applying "shot-peening" technology, which is already in use for manufacturing aircrafts and automobiles.
Dr. Kinoshita and Mr. Hirofumi Yamada visited the Office of President on June 29, and reported their awarding to Dr. Hisataka Moriwaki, President. The president praised their achievements and said, "The new method that Dr. Kinoshita and his team have invented will be of great help to our environment conservation efforts for days to come. Please continue with your excellent work."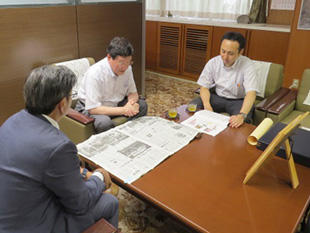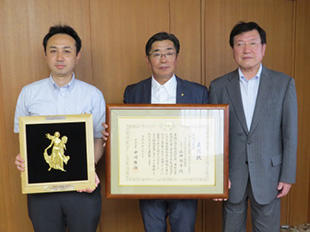 2018.07.20
Internal links
Original sites
External links
File links