Innovation Hub for Smart Mold Processing opens
The Opening Ceremony for the "Innovation Hub for Smart Mold Processing" was held on June 8, 2018.
The Innovation Hub for Smart Mold Processing facilitates collaboration among Gifu University, local businesses and public research institutes in adding sensing functions to the conventional mold, press forming and injection forming equipment. Its primal goals are to build a "smart production systems" that will make it possible to detect early formation defects, to realize autonomous molding and adjustment of processing conditions with the use of IoT platforms for data collection and analyses.
The ceremony was attended by approximately 80 people including President Hisataka Moriwaki, Ms. Tomoko Ikuta, a special guest from the University-Industry Collaboration and Regional R&D Division, Ministry of Education, Culture, Sports, Science and Technology (MEXT), Mr. Takanori Kawai, Vice Governor of Gifu Prefecture and representatives from relevant businesses and industries.
After the ribbon-cutting ceremony, Professor Wang Zhigang, Vice President for Industry-Government-Academia Collaboration gave a brief summary about the hub, which was followed by the facility inspection. In this inspection, the participants observed how the data is being collected when products are manufactured after an attachment of special sensors to the molds and forming equipment.
Two people were invited to speak for this occasion. Ms. Ikuta delivered a speech under the title, "MEXT's Challenge for Creation of Regional Science and Technology Innovation" and President Akira Iwabuchi of Iwate University gave a speech, "Scale Shift."
Afterwards, Professor Wang and Ms. Ikuta joined a symposium as panelists and talked about research activities for the innovation hub with other panelists from the partner enterprises. Active information exchange continued among researchers, guests and participants throughout the symposium.
Gifu University will continue to develop new technology and new products in this newly-opened innovation hub by closely working with the partner enterprises in hopes of bringing out a huge business competitiveness of this country.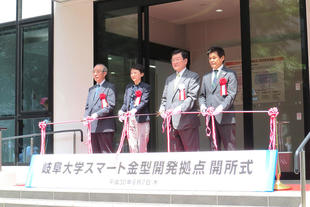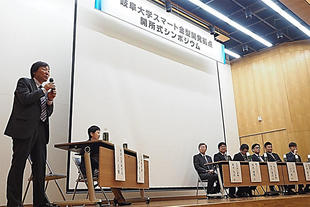 2018.06.18
Internal links
Original sites
External links
File links