Biotechnology for the Future Seminar
The Japan Bioindustry Association (JBA) and Gifu University co-hosted the "Biotechnology for the Future Seminar; Bioresources in Northeast India, Research on Food Biopolymer -Industry-Government-Academia Collaboration by the Indian Institute of Technology, Guwahati (IITG) and Gifu University" in Tokyo on May 25, 2018.
At the beginning of the seminar, Mr. Daisuke Shibata from Kazusa DNA Research Institute gave a presentation about the status of bioresources and their prospects in Assam, India where IITG is situated. The following are the speakers and the research themes of the lectures that took place after Mr. Shibata's presentation;
- "Industrial Use of Sustainable Polymer" by Mr. Vimal Katiyar from IITG
- "Industrial Use of Biological Pesticide and Genetically Engineered Plants" by Mr. Lingaraj Sahoo from IITG
- "What International Collaborative Education (Joint Degree programs, etc.) is aiming for" by Mr. Tatsuya Kitaoka from the Gifu Prefectural Board of Education
Mr. Kitaoka used to work for the University Promotion Division, Higher Education Bureau, the Ministry of Education, Culture, Sports, Science and Technology (MEXT) and was responsible for drafting the guideline for international collaborative education courses. From his own experiences, he spoke about the significance of the planned four joint degree programs (JD) of Gifu University with its overseas partner universities to be started in 2019.
Professor Hiroyuki Koyama of the Faculty of Applied Biological Sciences of Gifu University also delivered a speech titled; "JD Platform with IITG; Development of Bioresources and Green Economy in India."
Approximately 40 people attended. They were university staff, members of the Industry and company employees. In the Q&A session, lively opinion exchange continued for some time. Under JBA's initiative, the Biotechnology for the Future Seminar was realized through strong cooperation among industry, government and academia. Gifu University will continue to hold the similar seminars to communicate its activities to the public.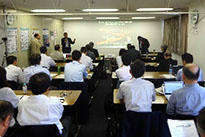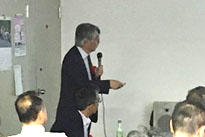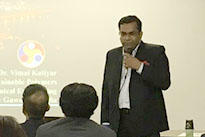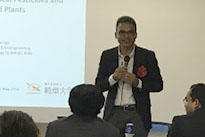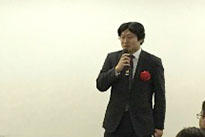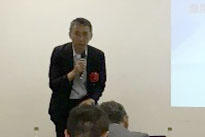 2018.06.18
Internal links
Original sites
External links
File links