The 69th Foundation Anniversary
 The 69th Foundation Anniversary and a Commemoration Ceremony were held at the University Auditorium on June 1, 2018.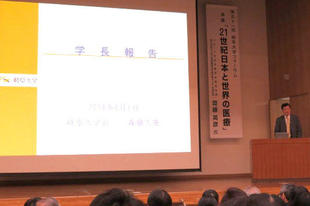 First, President Hisataka Moriwaki spoke about the advancement rate for higher education in Japan and Gifu University's approaches for changes found in the university students in his "President Report" in association with Gifu Future Vision Toward 2025."
  He expressed his hope for increasing the university's brand values and admissions of more "high-end" talented students into the university.

 Next, the 3rd Ceremony for Commendation of Gifu University Alumni Association President was held, which was followed by the recipients' keynote speeches. The Commendation of this year went to: Mr. Hiroshi Azechi, who graduated from the Faculty of Engineering, Gifu University. He is a professor emeritus at Osaka University and is one of the world's best scientists in laser nuclear fusion field today. Mr. Oguri Michihiro, a graduate of the Faculty of Agriculture (presently, the Faculty of Applied Biological Sciences) of Gifu University. He serves as President of Gifu Zohen Co., Ltd. and has long been contributing to urban afforestation and greenery business.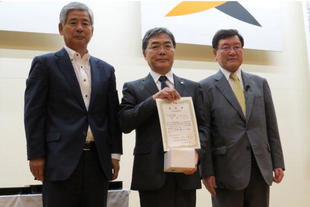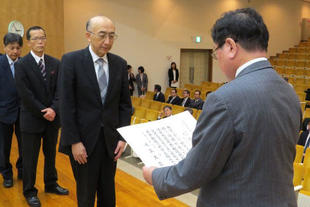 Besides these awarding, the following events took place: Title Conferment for Professor Emeritus (for 14 people) Commendation of Teaching and Administrative Staff (for 7 people) Commendation of Students (for 20 people), and Presentation of Certificates of Gratitude for Contributors (for 3 people)
---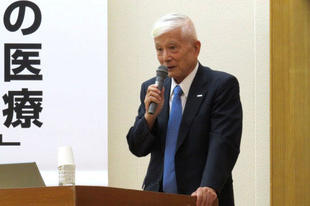 In the 51st Gifu University Forum, part of the 69th Foundation Anniversary was held on the same day. The invited guest speaker, Mr. Hidehiko Saito, President of the Japanese Association of Medical Sciences in 2019 and Nagoya Medical Center Honorary Director, gave a speech titled, "Japan and World Medicine in the 21st Century." He explained the differences in medical systems between Japan, Europe and the United States, and talked about regenerative medicine and genomic medicine which are deemed to be the forefront in the 21st century medicine.
 The audience was intently listening to his speech throughout the session. Around 200 people including current and former teaching and administrative staff, students and alumni took part in the anniversary events and the forum.

 It was a great opportunity for all the attendees to wish for the university's further growth and prosperity in the years to come. Gifu University holds the foundation anniversary commemoration events on June 1 every year. Next year in 2019 marks the 70th anniversary, and we are planning to create the university's academic archive, issue a special journal, hold commemoration ceremony events and speeches. We look forward to your participation in the 70th Foundation Anniversary.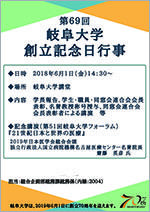 Date and Time : 2:30pm - 5:15pm, Friday, June 1, 2018
Venue : Gifu University Auditorium 
Program
○ Orchestra Performance
○ President Report
○ Title Conferment for Professor Emeritus 
○ Commendation of Teaching and Administrative Staff
○ Commendation of Students       
○ Presentation of Certificates of Gratitude for Contributors
○ Commendation of Gifu University Alumni Association President
○ Keynote Speeches by the Recipients of Commendation of Gifu   University Alumni Association President
○ The 51st Gifu University Forum
  "Japan and World Medicine in the 21st Century"
  Speaker:President of the Japanese Association of Medical   Sciences in 2019
     Nagoya Medical Center Honorary Director
     Mr. Hidehiko Saito
2018.06.11
Internal links
Original sites
External links
File links