Professor Shinji Kambara attends the press conference of Sawafuji Electric CO., Ltd.
Professor Shinji Kambara of the Department of Chemistry and Biomolecular Science, the Faculty of Engineering, Gifu University attended the press conference hosted by Sawafuji Electric CO., Ltd. at TKP Shinbashi Conference Center in Tokyo on May 28, 2018. Gifu University held the press conference in March 2017 concerning the development of "Plasma Membrane Reactor (PMR)," a hydrogen manufacturing device using plasma, which was jointly created by Professor Kambara and Sawafuji Electric.
In the latest conference, Professor Kambara announced that he and his team succeeded in enhancing the PMR hydrogen manufacturing capacity by 40-folds from the level of one year ago. Currently, it is possible to produce 150NI/h (per PMR) of hydrogen (99.999% purity) from ammonia. PMR can also be used for hydrogen purification. It can produce 385 NL/h (per PMR) hydrogen (99.999% purity) from hydrogen with only 99.9% purity.
Professor Kambara and his team will continue to work hard to increase hydrogen manufacturing and purification capacities as well as 500NI/h (per PMR) hydrogen production in the near future. It is expected that PMR will be used for hydrogen stations, fuel cell generators and semiconductor manufacturing process, etc.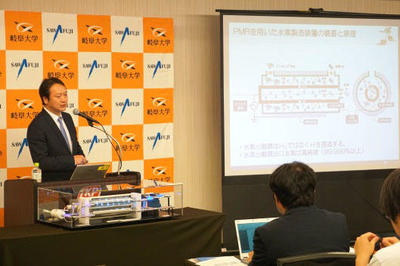 2018.06.05
Internal links
Original sites
External links
File links