Mr. Kenji Kobase ranks fourth at 50-Meter Breast Stroke at JAPAN SWIM 2018
Mr. Kenji Kobase, 1st grade student of the Graduate School of Education, Gifu University (Professor Kasuga's Laboratory) ranked 4th at 50-meter Breast Stroke at JAPAN SWIM 2018. The Japan Swimming Federation hosted JAPAN SWIM 2018 at Tokyo Tatsumi International Swimming Center from April 2 to 8, 2018.

At JAPAN SWIM, Japan's fastest simmers compete with one another, and JAPAN SWIM 2018 this time also served as a venue for the 18th Asia Swimming Championship and the 13th Pan Pacific Swimming Championship. Mr. Kobase competed at 400-meter swimming relay in men's category at Rio 2016 Summer Olympics.

Mr. Kobase and Professor Kousho Kasuga, his supervisor visited the Office of President on April 17, and reported his achievement to President Hisataka Moriwaki.
"I usually compete in a freestyle category, but I am also practicing breast stroke hard these days. I would like to keep on improving my swimming skills by making the best use of experiences at Rio 2016 Summer Olympics," said Mr. Kobase. In response, President gave the following words of encouragement to him; "I hope you will become one of the best swimming instructors in Japan, who is equipped with outstanding swimming techniques and educational expertise through your studies at our graduate school."

While studying at the graduate school, Mr. Kobase is already setting his sights on TOKYO 2020. As a coach of Gifu University's swimming club, Mr. Kobase gives instructions to his juniors particularly focusing on quality swimming.

Gifu University looks forward to your strong support and encouragement for Mr. Kobase's success at TOKYO 2020 and beyond.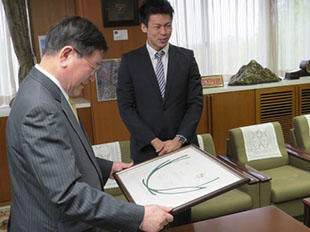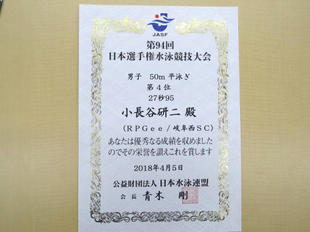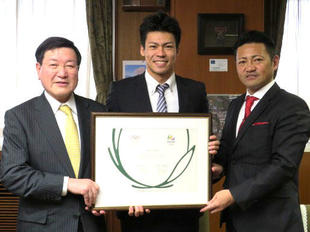 2018.04.26
Internal links
Original sites
External links
File links