Center for Collaborative Study with Community Symposium AY 2017
Gifu University held the Center for Collaborative Study with Community (CCSC) Symposium, "Towards Creation of a Base for Regional Revitalization" on March 23, 2018.
The purpose of the symposium is to further promote the efforts of Gifu University's COC (Center of Community) and its advanced type of COC+ projects by sharing its activities and achievements in education, research and social contribution to date, with people inside and outside Gifu University. It also aims to facilitate the university's unique initiatives in conjunction with local communities as a "base for regional revitalization." Approximately 120 people attended the symposium.

At the beginning of the symposium, a certificate award ceremony for the Next Generations Community Leaders Training Program was conducted. Forty students who have completed the program received their certificates, and 41 students were granted the title of "Student Coordinator." In addition, 23 students were given the title, "Gifu Next Generations Community Leader."

Afterwards, on behalf of the invited guests, Mr. Satoshi Matsui, Mayor of Hashima City, Gifu Prefecture gave a speech, which was followed by the following presentations for 2017:
- Region-based project result report
- Regional coordinators' activity report
- Report by the students studying at the advanced-level of Next Generations Community Leaders Training Program
- Report by students from Chubu Gakuin University and College and Nihon Fukushi University, both of which are the member universities of COC+

Later, under the theme, "To enliven local communities: What roles individuals can play," a talk session began. A freelance broadcaster, Ms. Mitsuyo Kusano, native of Gifu Prefecture was invited as a special guest for this session. The participants of the session were: Mayor Matsui, a student representing the Next Generations Community Leaders Training Program (4th grade student of the Faculty of Education) and Mr. Dr. Hideto Fukushi, Executive Director for Academic Research and Information, Vice President of Gifu University. With Ms. Kusano as a moderator, the participants expressed hopes and wishes for regional contribution from their own viewpoints.

In addition to Gifu University staff, people from local municipal governments, different universities attended the symposium. The symposium offered us a great opportunity to communicate Gifu University's achievements and success to people both in and outside Gifu University.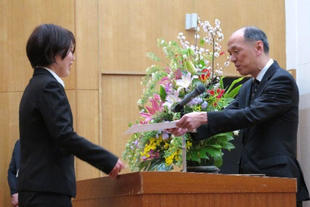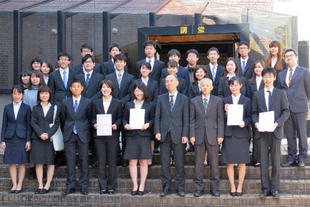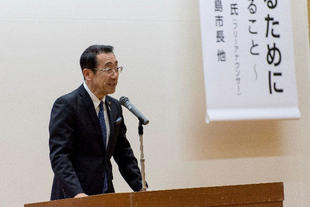 2018.04.23
Internal links
Original sites
External links
File links