The 5th Open Lecture by the United Graduate School of Veterinary Sciences: "Honeybees and Diseases"
The United Graduate School of Veterinary Sciences (UGSVS) hosted the 5th Open Lecture, "Honeybees and Diseases" at Gifu University Satellite Campus on March 23, 2018. Approximately 70 people attended and they were from Gifu Prefecture Medical Association, Gifu Veterinary Medical Association, Gifu Prefectural Government and apiculture businesses.

UGSVS holds an open lecture once a year in order to supply Gifu citizens, medical staff and veterinarians in the region with information about the latest topics in veterinary sciences for active opinion exchange between specialists and citizens.

Gifu Prefecture is often called a "birthplace of modern apiculture." There are 384 bee keeping households (ranks 4th in Japan), 6,200 bee colonies (ranks 10th) and 122 ton of annual honey production (ranks 9th), making the prefecture the region with one of the most prospering apiculture business in Japan.

The themes of the lecture were: infectious diseases of bees (both reportable and reported communicable diseases) and illnesses stemming from bees and honey products such as infant botulism. The lecture was intended to reinforce regional collaboration by sharing such vital information among participants.

The following are the speech titles and names of the speakers:
- "Propagation of bee diseases" by Professor Koji Tsuchida of the Faculty of Applied Biological Sciences, Gifu University
- "American foulbrood and European foulbrood" by Ms. Rie Arai of Saitama Prefectural Government
- "Honey and infant botulism" by Professor Igimi Sizunobu of Tokyo University of Agriculture

After the speeches, a general discussion took place and many questions were raised from the audience. The lecture offered people a precious opportunity to exchange opinions and share ideas among citizens, medical staff, veterinarians and people in local businesses.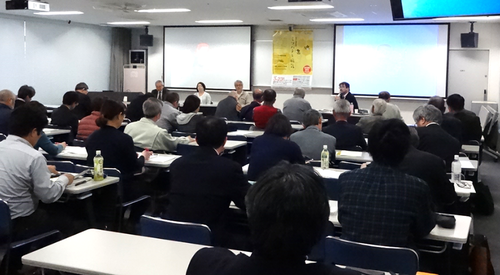 2018.04.06
Internal links
Original sites
External links
File links