AY 2017 Commencement Ceremony for Undergraduate and Graduate Students
AY 2017 Commencement Ceremony for Undergraduate and Graduate Students was held at Nagaragawa Convention Center, Gifu City on March 25. The numbers of students graduated are; 1,349 undergraduate students and 523 graduate students respectively.

President Hisataka Moriwaki offered the following message to the graduating students: "Those of you who are graduating today have studied fundamental and applied sciences at the various departments and graduate schools of Gifu University. However, the ways of thinking that you have acquired there are not limited to the fields of your respective departments and programs. Rather, they can be applied broadly to the humanities, social sciences and natural sciences as a whole and developed further. Together with the wisdom you have gained at Gifu University, I wish you to maintain lofty goals and a pioneering spirit, and begin to make contributions to society and humankind at large. I sincerely pray for a great success in your career."

On behalf of Gifu University students, Miss Kaori Takahashi of the Faculty of Engineering, and Mr. Kenzaburo Yamada of the Graduate School of Regional Studies read farewell messages. Miss Wakana Okumura of the Faculty of Education and Miss Natsumi Mori of the Graduate School of Applied Biological Sciences made addresses in reply to their messages. The following are the messages of Miss Okumura and Miss Mori: "We pledge to make a steady step forward with what we have learned at Gifu University always in mind." "Our mission is to contribute to the prosperity of Japan by taking up challenges in the real world with the knowledge, and objective, logical viewpoints we have developed as our guiding principles. We are determined that each one of us sees the very essence of things and always pursues what we can do for the next generation."

At the ceremony, President Moriwaki honored 16 students for their excellent academic achievements, one student for the outstanding research work which is highly praised in the academic community, and two students for their top performances and devotion to extracurricular activities.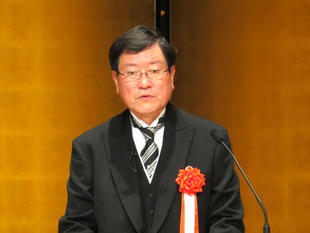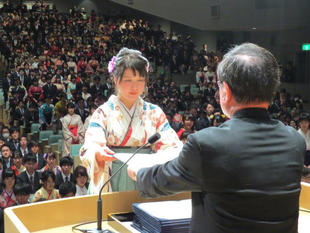 2018.04.03
Internal links
Original sites
External links
File links