Two Students Attend 2017 Aigi Career Development Consortium for International Students Reporting Session
"2017 Aigi Career Development Consortium for International Students* Reporting Session" was held at the School of Economics, Nagoya University on March 15, 2018. Two international students of Gifu University, Ms. Ranatunga Arachchige Tharangika Ranatunga (3rd year student of the United Graduate School of Agricultural Science) and Ms. Maina Esther Wamaitha (1st year student of the Graduate School of Engineering) attended the session.

After an opening speech by Mr.Hitoshi Inukai, General Manager of Career Center, Meijo University, four participants from three organizations of the consortium gave a 5-minute speech. They talked about their experiences of attending the consortium's "Career Development Program for International Students (commissioned by the Ministry of Education, Culture, Sports, Science and Technology (MEXT))," their job-seeking activities in Japan and their impressions about such activities.

Question and Answer session followed which was moderated by Mr. Yasuhiro Doi, Presidential Assistant (International Relations) of Nagoya University. The following were the comments made by the participants; "Japanese language is one of the biggest hurdles in finding a job in Japan," "After all, English is the second familiar language for many international students after our respective native tongues." "I wish to find a job in Aichi or Gifu region rather than the metropolitan Tokyo if I live together with my family."

At the end of the session, Professor Hiroyuki Koyama, Vice Director of Gifu University Head Office for Glocalization (GHOGL) gave closing remarks and the session was closed with a great success.

We will continue to listen to and reflect the voices of international students as we implement the consortium programs and projects.

Aigi Career Development Consortium for International Students*; established on September 11, 2017 in order to support international students' job-seeking in Japan through partnership among universities, local governments, economic organizations and enterprise supporting associations within Gifu and Aichi prefectures.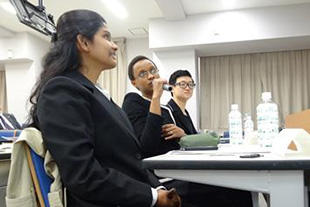 2018.03.29
Internal links
Original sites
External links
File links