The 11th Press Conference by President for AY 2017
The 11th Press Conference by President for AY 2017 was held on March 16, 2018.

President Hisataka Moriwaki first spoke about a mid-term assessment of COC+ (Center of Community Program for local revitalization) by the Ministry of Education, Culture, Sports, Science and Technology (MEXT), in association with "Gifu University Future Vision Toward 2025." It was followed by the COC+ program summary given by Dr. Hideto Fukushi, Executive Director for Academic Research and Information, Vice President.

After their speeches, Dr. Koichi Masukawa, Director of the Center for Collaborative Study with Community introduced some features of Gifu University's COC+ program called, "Make a big step at Gifu × Bring a Plus to Gifu: Joint development of a region-oriented business leader." He reported that a consortium was established among universities, Gifu Prefectural Government and private businesses to jointly develop human resources best suited to the needs of industries, and creation of new jobs through collaboration among business- government-academia. He underscored that the COC+ program is being undertaken by all members in Gifu.

Gifu University is one of the two universities in Japan, which was given the best evaluation for 2016 COC (Center of Community) Program and for the mid-term assessment of COC+ Program.

Two students who have completed the Next-Generation Regional Leader Fostering Program also talked about their impressions and experiences of attending the COC+ program by themselves.

At the end of the conference, it was reported that Gifu University is playing a more significant role as a base for regional revitalization through implementation of COC+ program.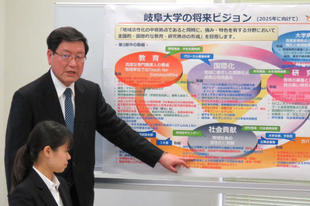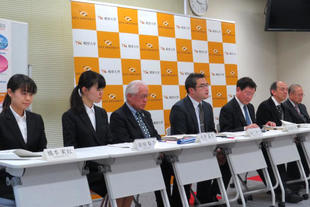 2018.03.28
Internal links
Original sites
External links
File links