UGSAS Sandwich Program Reporting Session and Completion Ceremony
The United Graduate School of Agricultural Science (UGSAS) held a Sandwich Program Reporting Session and a Completion Ceremony on March 14, 2018, and 15 people attended the session and ceremony.

The Sandwich Program is designed to accelerate cooperation in the fields of education and research between UGSAS and the member universities of IC-GU 12*. Under the program, UGSAS supervises students from the 15 member universities who are studying a doctoral course at Gifu University as special research students for six months.

In the reporting session, after a speech by Professor Kohei Nakano in charge of the program, one student each from Sebelas Maret University, Gadjah Mada University, Chulalongkorn University, Assam University and Indian Institute of Technology, Guwahati made presentations about their research work and life in Japan. Later, they engaged in active discussions with one another. In the Completion Ceremony, Professor Ken Hiramatsu, Vice Dean (for International Collaboration) of UGSAS handed out sandwich program completion certificates and enrollment certificates to the students.

The program was beneficial to both the international student and Japanese students. The international students were given instructions about how to write research dissertations, and Japanese students had a chance to deepen their understanding about different cultures by sharing some time with the international students. It is expected that the program will help Gifu University further expand international exchanges in the future.

Sandwich Program Detail
1. Research instructions by professors in specialized fields are offered
2. Students attend lectures at UGSAS
  (No recognition of credits, but enrollment certificates are issued)
3. Students make research presentations at reporting sessions
4. Program completion certificates are issued
5. In case publishing dissertations drawn up during their enrollment in UGSAS, the dissertations are considered to be co-authored by the student and his / her supervisor

*IC-GU 12: International Consortium of Universities in South and Southeast Asia for the Doctoral Education in Agricultural Science and Biotechnology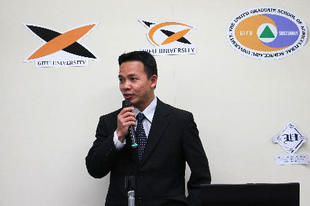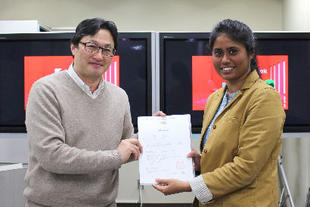 2018.03.28
Internal links
Original sites
External links
File links