EDGE-NEXT Symposium
Associate Professor Masayuki Uehara of the Organization for Research and Community Development, Gifu University made a presentation about Tokai Consortium at EDGE-NEXT KANSAI SYMPOSIUM 2018 by the Ministry of Education, Culture, Sports, Science and Technology (MEXT) on February 26, 2018. The consortium is made up of five national universities in the Tokai Region: Gifu University, Nagoya University, Nagoya Institute of Technology, Toyohashi University of Technology and Mie University.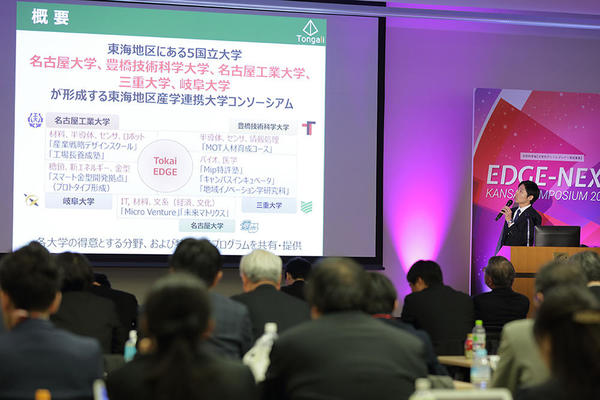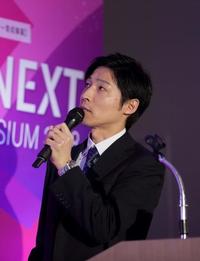 EDGE-NEXT (Exploration and Development of Global Entrepreneurship for NEXT generation) is a program aiming to promote starting new businesses from academic research results, develop human resources for business creation and to build a "Venture Ecosystem." The program started in 2017 and will end 2021. The MEXT approved four other university consortiums besides the Tokai Consortium. They are: The University of Tokyo Consortium, Tohoku University Consortium, Waseda University Consortium and Kyushu University.

At the symposium, a large number of people attended which included the MEXT officials, people from the consortiums, enterprises and local municipal governments.
Associate Professor Uehara introduced the summary and achievements of 2017 about a five-university "Entrepreneur Education Program," one of the major projects of the Tokai Consortium.

He specifically underscored the following programs:
"Tongali School" to develop mindsets and obtain knowledge (intellectual property, finances, etc.) and skills (how to create ideas) necessary to start businesses
"Idea Pitch Contest" for competing unique ideas
"Oversea Training" for commercialization of new ideas
In addition, he introduced Gifu University's ongoing projects/programs, events related to start businesses, business plan competitions by university students and participation in oversea training.

Gifu University started a program "Activities to encourage students and researchers to start new businesses" this year. Such activities include entrepreneur education, venture business creation support programs in collaboration with the Head Office for Industry-Government-Academia Collaboration (Gifu University) and external bodies (other universities, enterprises and local governments).
Gifu University is planning to build a unique entrepreneur education system to give instructions to juniors by showing the university's entrepreneur role models, and to produce personnel full of entrepreneurship, capable of bringing about innovation into businesses. We believe that such endeavors will revitalize regional communities and contribute to create a lot of new industries.
2018.03.16
Internal links
Original sites
External links
File links