Meeting with Company Representatives Responsible for Active Utilization of International Workforce
Gifu University Head Office for Glocalization (GHOGL) held the Meeting with Company Representatives Responsible for Active Utilization of International Workforce at Gifu University on January 24, 2018. It was co-hosted by Chubu Bureau of Economy, Trade and Industry of the Ministry of Economy, Trade and Industry.

The meeting was held as part of Aigi (short for Aichi and Gifu prefectures) Career Development Consortium for International Students, Career Development Program for International Students Commissioned by the Ministry of Education, Culture, Sports, Science and Technology (MEXT). The major purposes of the meeting are to facilitate exchanges between company representatives with a large number of international employees in Chubu Region, and international students. Thirty-eight people attended including international students, teaching and administrative staff.

At the outset of the meeting, Dr. Fumiaki Suzuki, Executive Director for International Affairs and Public Relations gave an opening speech.

In the first section, five company representatives (TOWA Industrial Co., Ltd., MEISHIN SEIKO, TOMEY CORPORATION, Japan Hardware Co., Ltd., and Sugai Corporation) gave summaries of their business for international students. The students eagerly listened to their speeches full of information about their businesses, equipment in operation, etc. while watching slide presentations.

In the second section, the students were divided into two groups, and a facilitator led the discussions between the students and the company representatives. Many students made questions to the representatives and shared information with each other. Everyone in attendance learned a lot from unique questions and comments made by the international students.

In some messages in the questionnaire papers read; "The meeting was quite useful. I learned a lot about business policies of individual companies." "I would like to meet with people from different business and industries in another meeting in the future."

GHOGL will continue to cooperate with the business communities and local municipalities for the promotion of "Career Education for Corporate Culture in Japan," one of the critical elements for international students in successfully landing jobs in Japan and Japanese companies overseas.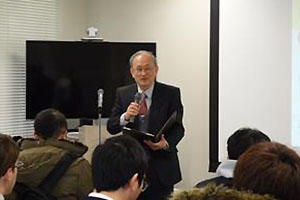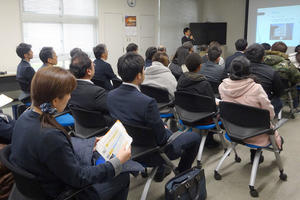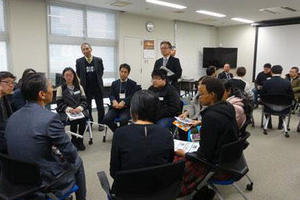 2018.03.08
Internal links
Original sites
External links
File links