School of Medicine Students Receive a Letter of Gratitude from Ogaki Police Station
Four students of the School of Medicine, Gifu University received a Letter of Gratitude from the Ogaki Police Station on February 9, 2018. They joined others in saving a man trapped into a car submerging into the river in January. After being rescued, the students used their clothes to keep the man warm until an ambulance arrived.

The students reported their receiving of the Letter to President Hisataka Moriwaki at his office on February 22. When President asked, "Did you try all kinds of means to save him at once?" one of the students replied, "We did our best to help him. After being rescued from the car, we used our cloths to keep him warm. He was shivering with cold and was suffering from hypothermia." President praised their courage and said, "There are a lot of academic prizes awarded to Gifu University so far, but it is quite an honor for the Gifu University students to receive the Letter of Gratitude from the police station for their brave act of live-saving."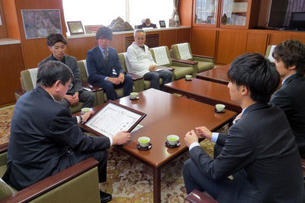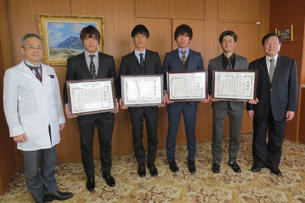 2018.03.08
Internal links
Original sites
External links
File links