Gifu University Symposium "Development and Achievements of School Managerial Staff Training"
Gifu University held a symposium, "Development and Achievements of School Managerial Staff Training" on February 6, 2018. Approximately 90 people came to the symposium from the professional schools for teacher education in Oita, Naruto (Tokushima), Chiba and Yamanashi prefectures, members of education boards in and outside Gifu Prefecture, school representatives, students, parents and guardians.

After the opening address by President Hisakata Moriwaki, the first session kicked off. Mr. Nobuya Takaoka, President of National Institute for School Teachers and Staff Development delivered a keynote speech titled, "School Managerial Staff Training and Roles of Professional School for Teacher Education."

At the second report session, details of the project and contents about "School Managerial Staff Training in Collaboration with Professional Schools for Teacher Education and Education Board" were introduced by university professors. Later, five teachers who are currently studying at Gifu University Graduate School for Professionals in Education made presentations about their experiences and close observations at schools.

At the Round Table session, teachers of the schools where these five teachers received training were invited to join the discussions, and they exchanged opinions with them and other participants. The symposium offered a great opportunity for everyone to contemplate the best possible school managerial staff training programs, what to learn from abundant wisdom and knowledge that each school has accumulated as well as the future of the training programs.

The symposium is now recognized as a spearhead in promoting school managerial staff training at professional schools for teacher education across the country. Gifu University will continue to make every effort to contribute to producing many more regional school leaders in the near future.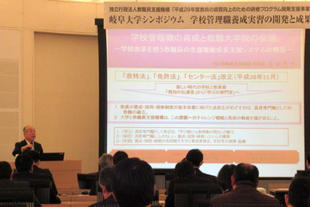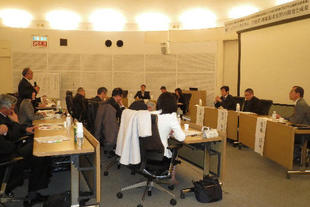 2018.02.22
Internal links
Original sites
External links
File links